08/24/07 03:55 PM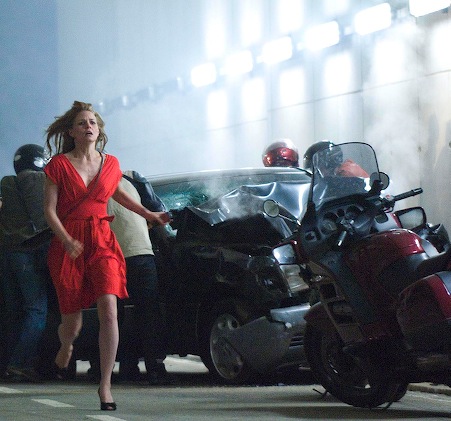 Fictional reporter Rachel Visco is put at the scene of Diana's death.
Premiering:
Saturday night, Aug. 25 at 8 p.m. (central) on Lifetime
Starring:
Jennifer Morrison, Gregori Derangere, Kevin McNally
Directed by:
John Strickland
By ED BARK
Strike while the eternal flames burn even hotter.
Or to put it another way, Lifetime is going to burn viewers Saturday night with its thoroughly shoddy and ridiculous
The Murder of Princess Diana
.
Timed to coincide with the 10th anniversary of her death on Aug. 31st, it's a fictional account of the same-named book by Noel Botham (feeder). He's one of several to theorize that her death in fact was an assassination.
Lifetime certainly plays along, putting pretty blonde investigative reporter Rachel Visco (Jennifer Morrison) in close proximity to the car crash that took the lives of Di and playboy boyfriend Dodi Al Fayed. Actors named Nathalie Brocker and Stephane Loumi respectively are credited with playing these two roles, even though neither speaks or is shown in anything resembling a full-faced closeup.
That's a stark difference from The Learning Channel's infinitely superior
Diana: Last Days of a Princess
, which premiered earlier this month. It had full-blown, effective portrayals of Di and Dodi by Genevieve O'Reilly (
Star Wars Episode III
) and Patrick Balad (the original British version of
The Office
). And there were no conspiracy theories thrown in.
Lifetime's bone-picker has no such scruples. Reporter Rachel whisks herself from London to Paris after somehow sensing "there's a huge story about to break. It's been building up and I can feel it."
She quickly runs into old flame Thomas Sylvestre (Gregori Derangere), now an inspector for the French police. They'll eventually hit the sack again. But for now he's helping to provide security for Di and Dodi during their stay at the Paris Ritz Carlton. Rachel quickly smells a rat after seeing some shady looking guys talking to one another in the lobby. So she impulsively piggybacks onto her photographer's motorcycle when Di and Dodi try to speed off without the vulturous paparazzi on their heels.
A massive coverup is quickly put in play after the couple's tragic death. Along the way, viewers are informed pretty much matter of factly that Di was both pregnant and planning to marry Dodi. Therefore some people had reason to kill her.
Many cliches and giant leaps later, another death occurs before Rachel herself is put in harm's way. Viewers are left to believe that the killers are still at large and that various high-level French officials and law enforcers are unspeakably complicit.
Well, maybe people will believe just about anything. But this preposterous film is an insult from start to finish.
Grade:
F