01/21/10 03:12 PM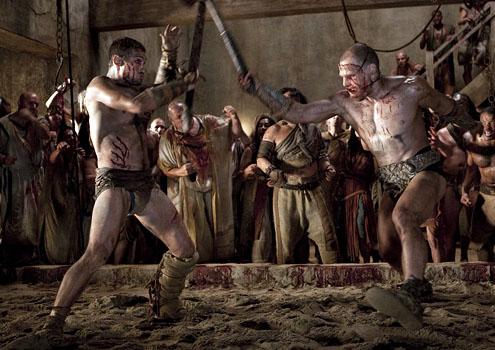 Spartacus staves off a sub-human in the dreaded "Pit."
Premiering:
Friday, Jan. 22nd at 9 p.m. (central) on Starz
Starring:
Andy Whitfield, Lucy Lawless, John Hannah, Peter Mensah, Manu Bennett, Viva Blanca, Craig Prker, Jai Courtney, Erin Cummings, Nick E. Tarabay, Antonio Te Maioho, Lesley-Ann Brandt
Produced by:
Sam Raimi, Rob Tapert, Steven S. Deknight, Grady Hall, Joshua Donen
By ED BARK
Sand? Not so much. Blood? Oh yeah. Barrels of it.
The new Starz series
Spartacus: Blood and Sand
is awash in the red stuff, whether it's splattering onto the screen, spewing from mouths or coursing from various severed veins and appendages.
Add very hard-core language, full frontal nudity (both male and female) and copious grime/gore. Then stir in a vivid, increasingly compelling storyline and you've got an industrial strength adult series that's probably best-watched from a man cave.
Some women might also be avid partakers. But the overall target audience for such fare is men with an abundant appetite for down-and-dirty, all-out mayhem mixed with boobs, butts and an occasional dick. Mixed Martial Arts fans unite. This one's got sex-ploits, too. And even before its premiere, Starz already has renewed it for a second season.
For better or worse,
Spartacus
is wholly unlike anything ever seen on the small screen. Kirk Douglas, who originally played the role, might well hate this decidedly un-Old Hollywood version. It makes HBO's often-graphic
Rome
series seem like
A Funny Thing Happened on the Way to the Forum
. And the X-rated expletives, from Romans and gladiators alike, might cause even Tony Soprano and his boys to blush.
Veteran blood-spiller Sam Raimi (
The Evil Dead, Darkman
) prepped for this project 15 years ago by helming
Xena: Warrior Princess
, which brought Lucy Lawless to prominence in the title role.
Lawless is back in costume -- and also showing much more than the syndicated
Xena
permitted -- as the willful Lucretia, wife of gladiator tournament impressario Batiatus (John Hannah).
Central to his plans is Spartacus (Andy Whitfield), the much-tormented warrior who initially signed on to fight the nefarious Gedi. Balking at contrary orders from Roman commander Glaber (Craig Parker), he eventually is separated from his beauteous wife Sura (Erin Cummings) and sentenced to a kill-or-be-killed life of gladiator-dom. In the premiere episode's climactic sequence, one combatant has both of his legs sliced off, causing him to crawl on the remaining stumps before being mercifully stabbed in the back.
The first four episodes made available for review unfold a tale that gains resonance amid all the horrid goings-on. The suffering is stark, the combat visceral, the longings palpable. Spartacus verges on becoming an animal but still trusts that he'll someday be reunited with his wife. That's what keeps him going, and also makes the excesses bearable in this reliably gruesome, starkly realistic depiction of man's unbridled inhumanity to man.
Spartacus has one close friend among the apprentice gladiators. He's blonde, good-natured Varro (Jim Courtney), who also longs to see his wife again.
Meanwhile, the alpha male of the gladiator fraternity, Crixus The Undefeated (Manu Bennett), strives to make Spartacus' life miserable. He's joined in this endeavor by the equally haughty Barca The Beast of Carthage (Antonio Te Maioho). All involved take their orders from head gladiator trainer Doctore (Peter Mensah), who has the personality of a famished cobra.
The week-to-week goings-on invariably find room for both graphic violence and steamy sex. This includes the sight of Varro having a mandated coupling for the public amusement of party-goers, one of whom bets heavily that he won't "last another 20 strokes."
Episode 4, subtitled "The Thing in the Pit," finds a shamed Spartacus in a filthy subterranean combat zone, fighting for his life against an assortment of perverse, flesh-crawling, barely human opponents. It's both incredibly violent -- and amazingly well-staged.
Beneath all this beats a heart. Both gratuitous and galvanizing,
Spartacus: Blood and Sand
turns out to be more than meets the eye in many respects. That's no small tribute to both Raimi and the actors, who clearly earn their pay after signing all those nudity clauses and then risking personal injury as well.
So all in all, bloody well done. And served raw, too.
GRADE:
B+