12/31/07 12:51 PM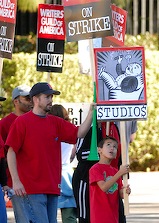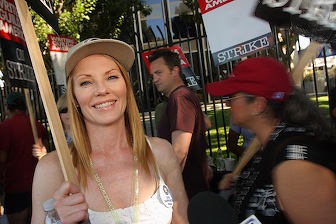 Both strikers' kids and sympathetic stars (Marg Helgenberger, Matt Perry) have signed on as the walkout hits the eight-week mark.
By ED BARK
It's going to get very interesting in the coming weeks. Neither the Writers Guild of America or the Alliance of Motion Picture and Television Producers seems to be blinking on the eve of a New Year that so far is without any scheduled bargaining sessions.
There's plenty of newly scheduled programming, though. Here are some
Frequently Asked Questions
about the strike and its impact on you, the viewer.
Who holds the upper hand?
Right now it's not the writers. Broadcast networks in particular seem ready, willing and even eager to see how well they'll do with a mix of unscripted reality concoctions, holdover new episodes of some scripted series, awards shows, big-ticket sports programming and a few "events" (CBS' six-hour
Commanche Moon
miniseries for one).
They'll be carefully measuring any reduced ratings against the lower costs of strike-proof programming such as
Celebrity Apprentice
, assorted quiz shows and an early return of
Big Brother
. For the past 10 days, NBC has been bragging about having "more new stuff" than its broadcast rivals, beginning with
The Biggest Loser: Couples
on New Year's night followed by a double-run of new
Law & Order
episodes on Jan. 2nd.
What's the deal with the late night talk shows?
All of the broadcast entries will resume with new shows on Jan. 2nd, but the playing field will be tilted in favor of CBS. Its
Late Show with David Letterman
and
Late Late Show with Craig Ferguson
both reached eleventh-hour agreements with the Writers Guild Friday.
Their principal rivals, NBC's
The Tonight Show with Jay Leno
and
Late Night with Conan O'Brien
, and ABC's
Jimmy Kimmel Live
, will have to wing it without their writers. How so? Letterman's production company, Worldwide Pants, Inc., owns both of the CBS late nighters. This eventually sparked a hard-won separate agreement between the Guild and the two shows that wear the Pants in television's fractious late night family. Meanwhile, Leno and the others remain at the mercy of the hardline networks that own their programs.
Letterman and Ferguson also should benefit from comparatively rich guest lists. A-list actors and even Pauly Shore are being strongly lobbied to honor Guild picket lines outside the NBC and ABC late night shows. On the other hand, they're now encouraged to visit Dave or Craig. This could be the difference between Tom Cruise and Julia Roberts on the
Late Show
and Digby Dregs and his Plate-Spinning Chimpanzees on the
Tonight Show
.
On the other hand, there's nothing to stop Jay from inviting actually intelligent book authors and other deep-thinkers to his couch. Yeah, like he's gonna do that.
Comedy Central's late night entries,
The Daily Show with Jon Stewart
and
The Colbert Report
, will be even harder-pressed without their writers when they return on Jan. 7th. But both hosts are highly adept ad libbers -- or at least we're led to believe they are. Now they'll be put to the test.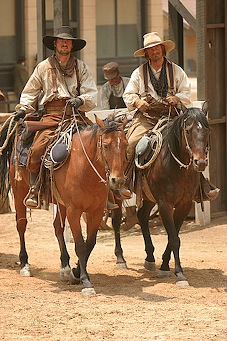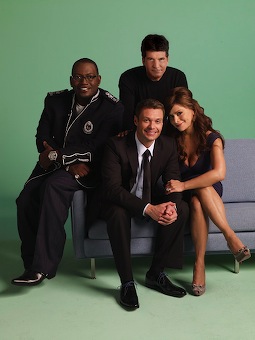 Texas Rangers Gus McRae and Woodrow Call in CBS' Commanche Moon prequel and the ruling class of Fox's American Idol.
Which network is best prepared to withstand a strike for the rest of this season?
Without a doubt, Fox. It has college football's Bowl Championship Series in the first week of January. Then
American Idol
checks in on Jan. 15th for its seventh annual steamrolling run to the climactic May "sweeps."
Fox also has the Super Bowl this year, as well as seven fewer prime-time hours a week to program.
Idol
takes care of two nights and the longstanding Saturday night lineup of
COPS
and
America's Most Wanted
is unaffected by the strike. Sunday's cartoon foursome also should be good to go with mostly first -run episodes. Long lead times for overseas animation mean that this season's scripts are already completed.
But wait, there's more. Fox has two proven, plug-in reality performers in
Are You Smarter Than a 5th Grader?
and
Don't Forget the Lyrics!
. And its flashy new midseason scripted series,
Terminator: The Sarah Connor Chronicles
, has received a saturation promotional campaign enroute to a Sunday, Jan. 13th sneak preview. It then will be paired on Monday nights with holdover new episodes of
Prison Break
. But
PB
's future beyond this season looks decidedly dim, with plans for any further North Texas production out of sight and likely out of mind.
What else is coming soon that viewers can watch with heads held high?
***
There's no time like the present to give NBC's
Friday Night Lights
a chance. It returns with new episodes on Jan. 4th and has enough left to make it through early February. Unless ratings really pick up, that likely will be it. The Peacock also has new episodes of
Medium
ready to go on Jan. 7th.
***
PBS starts its four-part
Pioneers of Television
series on Jan. 2nd, with weekly one-hour installments running through Jan. 23rd. The network also will launch its ambitious three-part
The Jewish Americans
on Jan. 9th.
***
HBO begins its fifth and concluding season of
The Wire
on Jan. 6th. Storylines will focus on "the media's role in addressing -- or failing to address -- the fundamental political, economic and social realities depicted over the course of the series," says HBO. You can be
that
won't be pretty.
***
ABC's new
Sex and the City
-ish
Cashmere Mafia
also gets underway on Jan. 6th, with Lucy Liu among a quartet of "sexy, ambitious" Manhattan career women.
***
CBS presents its six-hour
Lonesome Dove
prequel,
Commanche Moon
, on Jan. 13th. Steve Zahn and Karl Urban respectively play younger rangers Gus McCrae and Woodrow Call. But the show-stopper may be Rachel Griffiths as tart, man-eating Inez Scull.
***
On Jan. 20th, The Disney Channel at last gets around to premiering
High School Musical: The Music In You
, a documentary on the staging of its cash cow by Fort Worth high schools Western Hills and Arlington Heights.
***
HBO begins its serial soap
In Treatment
on Jan. 28th, with five episodes a week for a scheduled nine-week. Garbriel Byrne stars as psychotherapist Paul Weston, who of course is more than a bit messed up himself.
***
Last but not least,
Lost
will return to ABC on Jan. 31st with at least eight new episodes.
Enjoy.