06/27/07 12:52 PM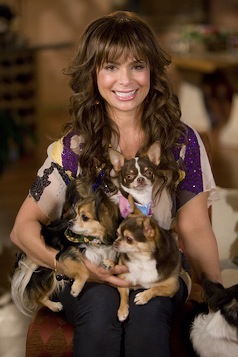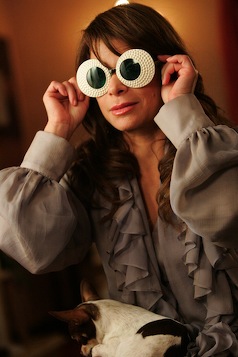 Paula with her four Chihuahuas and looking a little glassy-eyed.
Premiering:
Thursday, June 28, with back-to-back half-hour episodes at 9 p.m. (central) on Bravo
Starring:
Paula Abdul, hairstylist Daniel, publicist Jeff, wardrobe assistant Kylie and Chihuahuas Bessie Moo, Chomps, Thumbelina and Tulip
Directed by:
Jason Sands
By ED BARK
Two quotes leap from the video pages of Bravo's new fine arts production,
Hey Paula
.
The first one actually is kind of clever. And that's pretty astounding when one considers the source -- Paula Abdul herself.
"Last time I had a hit record, Bill and Hillary were having sex," she quips. "That's a long time ago."
It'll go perfectly alongside two recent YouTube tongue-waggers -- the "Obama girl" video and Hillary-Bill's counter-striking spoof of
The Sopranos
' climactic diner scene.
Ah, but then the ultra-needy Abdul has to un-redeem herself by saying, "I'm tired of people not treating me like the gift that I am."
That's the last impression she makes in Bravo's preview of upcoming
Hey Paulas
. It bridges Thursday night's premiere episode, which was sent to TV critics, and an immediately following second half-hour, which was not.
Abdul, in her view, is beloved by her many fans but bedeviled by media sharks.
"You know, I'm just like everyone else," she explains. "I have good days -- and bad days."
But everyone else doesn't get invited to the Grammys -- it takes four hours for Abdul's handlers to prepare her -- before taking a red eye from Los Angeles to Philadelphia to hawk her line of jewelry in the wee hours on QVC. This constitutes a back-breaking work day for Abdul, whose publicist, Jeff, just doesn't know how she does it.
It's a good thing that Abdul has a loyal Latina maid, Marina, to scoop up the "big-ass poop" that the star insists is
not
the product of pet Chihuahuas Bessie Moo, Chomps, Thumbelina or Tulip. The latter is the one she tripped over, suffering a broken nose during the closing chapters of last season's
American Idol
.
That said, this is Abdul in "three-dimensional" closeup, according to Bravo publicity materials. "This is my life. Enjoy the ride," she says.
Her life is her own fault. And it's filled with the ramped-up suspense typical of a genre that also has provided viewers with peepholes into the indulgent lives of Anna Nicole Smith, Farrah Fawcett, Danny Bonaduce, Gary Busey, Chuck Woolery, Whitney Houston/Bobby Brown, Kathy Griffin and too many more to stomach.
In
Hey Paula
, we're supposed to worry that she might be tardy to the Grammys' red carpet festivities. Or miss that night's plane to Philly. Or suffer the indignity of poorly designed jewelry. Or be embarrassed and distraught if QVC can't sell it.
Along the way, Abdul finds time to have a few laughs, especially in response to her joke about Joan Rivers.
At the Grammys, "I wanted to say to Joan, 'What doctor is your face wearing,' " she says before cutting loose with a disturbingly maniacal cackle.
Later, an autograph-seeking fan tells Abdul, "Listen, no matter what they're sayin' in the news, don't let 'em beat you down, you hear?"
"Thank you for saying that," she replies.
Many more reassurances will be needed in Thursday's Episode 2, when Abdul has her famed satellite interview meltdown while promoting Season 6 of
Idol
. A brief preview shows her overwrought, distraught and threatening to track down a reporter if she's misquoted.
Bravo has ordered seven episodes of this stuff, to which few are likely to say, "Bravo." But for Paula Abdul it's both another payday and an odd sort of opportunity to show "the real woman behind the headlines."
Knock yourself out.
Grade:
C-minus