09/29/09 01:41 PM
By ED BARK
ABC has more new fall shows on one night -- Wednesday -- than any of its rivals have for the full week.
Hank
and
The Middle
make their entrances this week, joining the previous Wednesday's threesome of
Modern Family, Cougar Town
and
Eastwick
.
Both late entries are family sitcoms fronted by time-tested TV stars. But one is far superior to the other. Let's look 'em over.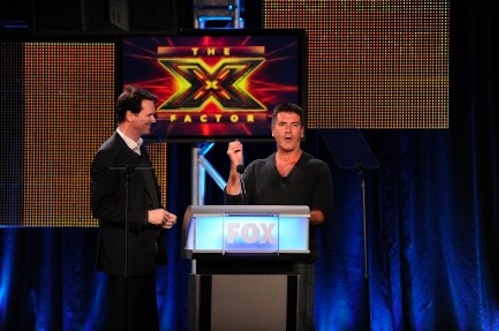 Kelsey Grammer and drama queen daughter Maddie (Jordan Hinson).
Premiering:
Wednesday, Sept. 30th at 7 p.m. (central) on ABC
Starring:
Kelsey Grammer, Melinda McGraw, David Koechner, Jordan Hinson, Nathan Gamble
Produced by:
Tom Werner, Tucker Cawley, Kelsey Grammer, Mike Clements
This is the only new ABC comedy afflicted with an old-school laugh track/studio audience. And boy they'd better fix this show's background noise before
Hank
makes air.
The network's review copy includes constant and irksome high-pitched yucks from a woman badly in need of a tranquilizer dart. Trust me, you wouldn't want her laughing at your jokes. Far better to bomb and bask in the quiet bliss of rejection.
On the receiving end is Kelsey Grammer, who perhaps has finally hit the wall as a vainglorious scenery-chewer. This time he's Hank Pryor, newly bounced as CEO of the sporting goods chain he founded. In the show's redundant setup, Hank and wife Tilly (Melinda McGraw) watch their possessions being carted out of a posh Manhattan residence while he keeps overstating the joys of moving back to her hometown, little River Bend, Virginia.
"This downturn is an opportunity for us to find out what we're made of, to emerge stronger, to snatch success from the jaws of failure," Hank pronounces. "I'm Hank Pryor, dammit. And I'm gonna get us back on top."
Tilly's not necessarily buying this, but Hank just won't shut up. And furthermore, "this is an opportunity for us to start over as a family. Team Pryor."
So off they go, to a nondescript bungalow with a dingy gas stove left in the middle of the living room. Their carping teen daughter, Maddie (Jordan Hinson), and nerd-ish 11-year-old son, Henry (Nathan Gamble), also are in tow. Tilly's loutish brother, Grady Funk (David Koechner), quickly barges in with an offer to fix the place up. But of course he's inept.
Grammer, who looks more and more like Bob Hope, seems lost without bombast. So he tiresomely plays Hank as a take-charge guy who wonders why Team Pryor can't first get along -- and then do things his way.
Hardly any of this works well.
Hank
has a few amusing lines, but they're almost by happenstance amid all the verbiage flung about. Grammer is always "on," but one quickly yearns to find his off switch. And that infernal woman's cackle -- please excise this! -- makes it all the more unbearable.
After
Cheers, Frasier
and Fox's under-appreciated
Back to You
, Grammer perhaps is due a real clunker. If so,
Hank
is it. Its star now needs to take a page from fellow sitcom bigwig Ted Danson, whose latter day career choices have taken him into the fertile territories of
Damages, Curb Your Enthusiasm
and
Bored to Death
. Step back and think about it, Kelsey. A blossoming career could still be in front of you.
GRADE:
C-minus
Beaten down but not counted out: Patricia Heaton in The Middle.
Premiering:
Wednesday, Sept. 30th at 7:30 p.m. (central) on ABC
Starring:
Patricia Heaton, Neil Flynn, Charlie McDermott, Eden Sher, Atticus Shaffer, Chris Kattan, Brian Doyle-Murray
Produced by:
DeAnn Heline and Eileen Heisler
Patricia Heaton took plenty of guff -- and gave it right back -- during her long tenure as Debra Barone on
Everybody Loves Raymond
.
After teaming with Grammer on the aforementioned
Back to You
, she's his followup act on ABC's best working class comedy since
Roseanne
. Not that there have been all that many to critique.
The Middle
, which in this case stands for tiny Orson, Indiana ("flyover country" in TV exec parlance), begins with Heaton looking none too happy in a super hero outfit. She's walking down a rural road and can't get service on her cell phone. How she got in this predicament is then explained via her narrative flashback.
Heaton plays put-upon Frankie Heck, who just happens to share my late mother's maiden name. Hell, it's about time the Hecks got a little TV time.
My poor mom gracefully battled her way through four unruly boys and their baby sister in real-life Racine, Wisconsin. Frankie is the married mom of two under-achieving teens (Charlie McDermott and Eden Sher as Axl and Sue) and a gradeschooler named Brick (Atticus Shaffer) whose teacher assesses him as a "very quirky child. Maybe clinically quirky even." The kid both says and whispers some words because it "soothes me."
The dad is named Mike (Neil Flynn). And in a shocking turn of events, he's not an imbecile. Both parents support each other, try to roll with the punches and work hard for their minimal money. In Frankie's case it's sub-minimal. Toiling in the town's last surviving used car dealership, she's yet to sell one. Her workmates include Bob (
Saturday Night Live
alum Chris Kattan) and Mr. Ehlert (Brian Doyle-Murray), who owns the place.
Frankie also worries about losing her looks -- a new driver's license picture creeps her out -- and keeping the fast food on the table.
"Somehow the life had been sucked right out of me," she narrates. "But who or what had sucked it?"
Bracingly without a laugh track,
The Middle
doesn't dwell too long on anything too dour. It's both absurd and grounded in a reality where "eating together as a family" is on a crowded couch in front of a television set. Because this is an ABC show, they're of course watching
Dancing with the Stars
for starters. Not sure if
Lost
would quite work with this group. Well, maybe with Brick it would.
Wednesday's premiere episode resolutely works its charms and earns its laughs. Far better than
Hank
, it approaches being as good as ABC's best new comedy, the same night's
Modern Family
. A little warm-edy intrudes at the end, when Frankie reflects, "This is my life. It's not gonna be in
People
magazine or anything, but ya know what? I got it good."
Shouldn't we all aspire not to be in
People
?
GRADE:
B+