12/12/08 07:30 AM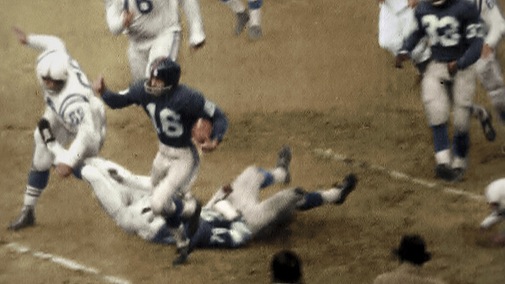 Frank Gifford breaks away in 1958 Giants-Colts championship game.
By ED BARK
Fifty years later the hyperbole still fits. And Saturday's exceptional two-hour ESPN special (8 p.m. central) vividly makes the sale.
Grandly dubbed "The Greatest Game Ever Played," 1958's Baltimore Colts-New York Giants championship game gave the NFL its stripes in times when baseball still reigned as the king of sports while college football outpaced the pro game.
Some of its key participants are deceased, most notably Colts quarterback Johnny Unitas, who died in 2002. And the Giants' late, great offensive and defensive coordinators, Vince Lombardi and Tom Landry, would go on to become giants in their own right.
But ESPN gets the most out of 11 veterans of that game, pairing them with current-day Giants and Colts players and coaches in a way that never seems forced or contrived.
Frank Gifford, the Giants' star running back, reminisces with Colts defensive end Gino Marchetti and incumbent Giants coach Tom Coughlin. Colts coach Tony Dungy sits with Unitas' favorite receiver, Raymond Berry. Another Baltimore Hall of Famer, flanker/halfback Lenny Moore, is paired with bruising Giants running back Brandon Jacobs. And old-school Colts lineman Art Donovan is as garrulous as ever while jawing with newly retired Giants defender Michael Strahan, now a Fox broadcaster.
Donovan recalls getting 58 stitches in his mug during a typically brutal game. So why not wear a facemask? "You were a sissy if you used one," he retorts.
As for his playing weight, "I was fat when I was born," Donovan says. "I was 17 pounds. I was out of shape from the beginning."
Also included are Baltimore-born filmmaker Barry Levinson and famed photographer Neil Leifer, who as a teenager took the game's most evocative and enduring photo.
ESPN additionally came up with the very good idea of interviewing surviving members of the Baltimore Colts marching band, which provided the halftime entertainment at Yankee Stadium. Their rendition of the Colts' fight song became upstart Baltimore's national anthem. So much so that Levinson had an organist play it at a wedding scene in
Diner
, the 1982 film that made him one of Hollywood's A-list producers and directors.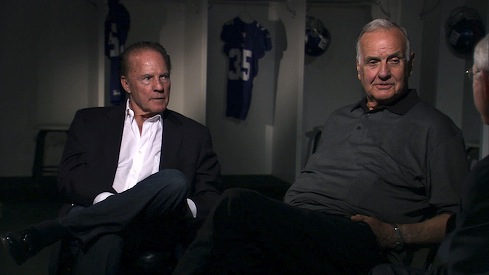 Frank Gifford and Gino Marchetti remember the way it was.
NBC's black-and-white telecast of the game is no longer with us. But ESPN has stitched together and colorized most of the game's big plays from existing film footage.
The muted colorization befits a cold, overcast Dec. 28th in a not-so-grand looking Yankee Stadium, where the grass was dead and much of the field was made up of infield dirt. There the two teams battled it out, kicking up dust and slipping on unsure footing in a game marked by both recurring fumbles and precision plays.
You'll quickly notice a few stark differences from the game then and now. There were no soccer-style kickers then. The Giants' Pat Summerall, who talks about the game with Colts placekicker Adam Vinatieri, joined all booters of his day in kicking straight ahead off his toe. Goal posts were positioned at the front, not the back, of the end zone. And the posts themselves were wooden and almost laughably short.
Many pro players from that era also worked day jobs to make ends meet. Donovan fittingly was a liquor salesman. Unitas and Marchetti were both employed by Bethlehem Steel.
But Gifford, one of the pro game's first glamour boys, bridged the past to the present by spending his off-duty hours as a film, commercial and radio personality. He also was involved in a very big way in "The Greatest Game Ever Played," fumbling twice, scoring a touchdown and coming up just inches short -- or so the referees ruled -- of a first down that would have allowed the Giants to run out the clock.
Gifford long has insisted he made that first down. ESPN painstakingly revisits the scene and, upon further review, makes a decisive and seemingly inarguable call. But you can still dispute whether the Giants should have punted on fourth down or gone for the clincher with the ball in the vicinity of their own 43-yard line.
What I've tried
not
to do here is to give away too much. Most football fans of a certain vintage know the outcome, but maybe not as many of the particulars as they think. Yours truly remembers watching it as a 10-year-old kid in Racine, Wis. It left quite an impression. But for me, "The Greatest Game Ever Played" will always be the subsequent 1967 "Ice Bowl" championship between the victorious Green Bay Packers and Dallas Cowboys.
Still, the Colts-Giants thriller is the one that ushered in the modern-day NFL. Some might say it's to blame for that. Not really, though. The pro game would have grown to mega-proportions anyway, complete with its attendant egos and off-field dramas. Fifty years ago, though, the game had a roughneck charm and gristle, with most of its stars content to let their on-the-field play do the talking.
The stoic Unitas, for one, never seemed to celebrate anything. Watch him walk away after . . . well, here's what that historic Neil Leifer picture still tells us -- with no further commentary needed: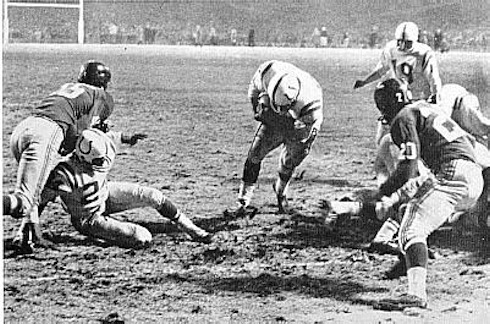 GRADE:
A