05/27/10 08:18 AM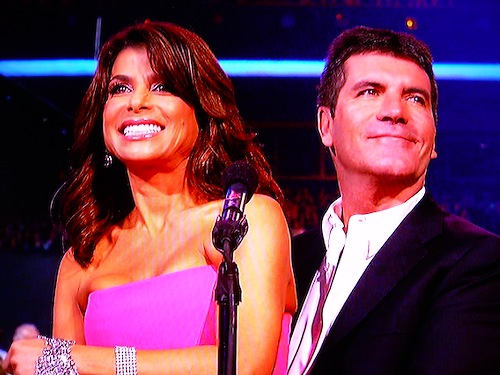 Paula snuggles with Simon on his final Idol. Photos: Ed Bark
By ED BARK
Befitting a lackluster season, dishwater dull Lee DeWyze won the Season 9
American Idol
crown Wednesday during a finale that had lots more going for it than him.
Principally, it was signature judge Simon Cowell's last call, and the show couldn't have gone on without constant references to that sobering fact.
Cowell was twitted in a recurring series of clips and also ribbed via a Dane Cook ditty -- "Simon's Greatest Insults" -- that fell lamentably flat. But the big finish was inspired. One by one, seven of
Idol
's eight past champs appeared onstage to sing "Together We Are One" while former judge, foil and punching bag Paula Abdul sat in Cowell's lap. Missing from the roll call was Season 7 winner David Cook, who had a charity event commitment in Kansas City, his representatives said.
The seven standardbearers, starting with inaugural victor Kelly Clarkson of Burleson, TX, were soon joined by various and sundry
Idol
castoffs for a group-sing that seemed to make the flinty Cowell just a tad misty.
Host Ryan Seacrest then coaxed him to the stage, where Cowell said that no one should be unduly concerned about any difficulties in replacing him.
"The truth is, you guys (
Idol
fans who vote) are the judge of this show," he said. "And you've done an incredible job over the years."
His final
Idol
words, followed by a commercial break, were short and pretty sweet. "It's been a blast," he said. "Thank you."
A beaming Abdul, splendorous in pink and recently named producer and lead judge of an upcoming CBS dance competition show, earlier saluted Cowell, his fellow judges and Seacrest.
"You're so cute," she told the host. "I want my lip gloss back."
She then addressed Cowell: "My darling Simon, no,
American Idol
's not gonna be the same without you. But as only I can tell you, it will go on."
Yes,
Idol
will be back for a 10th season. But whether it's now ripe for the kill is a major open question. Ratings sagged this season, which many blame on a lackluster field of contestants, an unwieldy mix of judges and the age of the franchise itself. Fox already is taking steps to juice up the field with a Thursday announcement that
Idol
will be teaming up with MySpace to "expand audition opportunities across the country."
Wednesday's two-hour finale, which actually ran seven minutes long, was the climactic capper of both the 2009-10 TV season and the May "sweeps" ratings period. And it didn't lack for star power, even if many of the acts were from yesteryear and beyond. Performing with varying combinations of Top 10 finalists were Hall and Oates, Chicago, The Bee Gees, Michael McDonald, Joe Cocker and Alice Cooper, all of whom have moved well north of the show's advertiser-favored target audience of 18-to-49-year-olds.
Christina Aguilera, Alanis Morissette, Season 4
Idol
queen Carrie Underwood and Janet Jackson in a full-blown return to the stage served to lower the median age a bit. But the night's biggest surprise was 47-year-old rocker Bret Michaels' performance of "Every Rose Has Its Thorn" with No. 3
Idol
finisher Casey James of Cool, TX.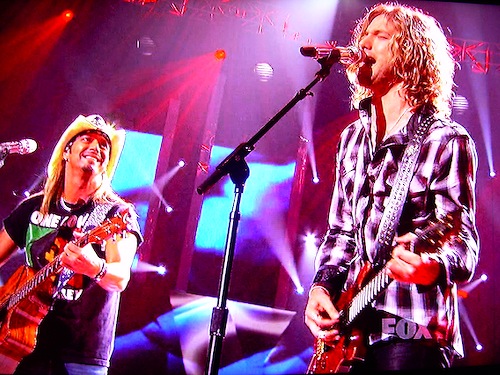 Bret Michaels and Casey James tear it up in surprise duet.
Michaels, who won NBC's
The Celebrity Apprentice
on Sunday night,
has been battling
a well-documented series of serious health problems. But he looked fit and strong in tandem with James, who in this view will have the most gainful post-
Idol
career.
DeWyze in the end took the show's grand prize in competition with fellow Final 2 survivor Crystal Bowersox. He won despite being buried by her in Tuesday night's final sing-off. Even DeWyze's most ardent fans had to admit that he pretty much came up empty against her in each of the three songs they performed. But his overall fan base prevailed, raising the question of whether it really mattered what happened during
Idol
's much-hyped final showdown.
A sobbing DeWyze had to be propped up by Bowersox even before the final verdict came in. And her Wednesday night performances of "Ironic" and "You Oughta Know," in tandem with Morrissette, clearly outshone DeWyze's stint with Chicago.
Still, DeWyze is the champ, and his version of U2's "Beautiful Day" will be the first record under his name. But will storm clouds have gathered over his career a year from now? And what shape will
Idol
be in? Whatever happens, it's not Simon Cowell's problem anymore.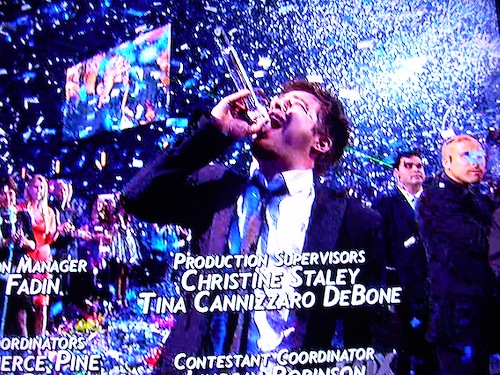 A triumphant Lee DeWyze sings himself off with "Beautiful Day."