11/06/09 11:54 AM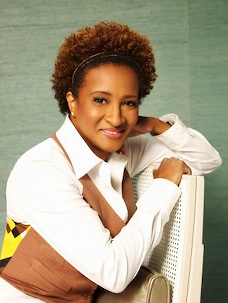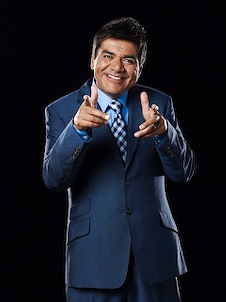 Coloring in Wanda Sykes and George Lopez. Fox/TBS photos
By ED BARK
Is late night TV ready for a new color scheme?
George Lopez, Wanda Sykes and their respective networks are primed to find out.
Fox's
The Wanda Sykes Show
, which supplants the long-running
MADtv
, launches
Saturday, Nov. 7th at 10 p.m. central
with announced guests Mary Lynn Rajskub, Daryl "Chill" Mitchell and Phil Keoghan.
TBS cable's
Lopez Tonight
, the first after-hours talker in the network's history, premieres
Monday, Nov. 9th at 10 p.m. central
with Ellen DeGeneres, Eva Longoria-Paker and Kobe Bryant in the house.
In teleconferences with TV critics, it's clear that Lopez intends to accentuate diversity while the openly gay Sykes is more inclined to keep it a bit on the down low.
"I've watched Jay Leno," Lopez says. "The only Latino I've seen on that show was a spoof that he did with a guy from the Dan Band at a car wash. That's not the intent of this show . . . You see a one-sided approach from the white side. This is coming from somebody who -- hey, I was born in the United States. I'm not an illegal alien. And I am the epitome of the American dream. The American dream is not just for somebody who's white. It's for everybody."
Sykes, who's appeared regularly on two predominantly white shows -- HBO's
Curb Your Enthusiasm
and CBS'
The New Adventures of Old Christine
-- says that all talk shows are "driven by the host."
"Yes, George is a minority, and so am I. But it's basically not what you're getting from a minority. It's us. George has been at this for 20-plus years, and so have I. We're seasoned comedians and that's what we're going to bring to it . . . It's going to be more our personality and not just 'Oh, now you're finally going to get the voice of a black woman.' "
Lopez will be getting far more exposure. His show runs Mondays through Thursdays while Sykes is doing a one-night stand each week.
She plans to open with a monologue, feature a few pre-taped comedy sketches and then settle in for a panel discussion with her guests. Sykes also will have a sidekick, Keith Robinson, a longtime friend who used to be regular participant on Comedy Central's
Tough Crowd with Colin Quinn
series.
The panel portion will be similar in format to Bill Maher's freewheeler on his HBO
Real Time
show, but "not as confrontational," says Sykes. "It's like mingling, but of course they will be opinionated. We can sit down, have a drink and laugh about it."
She literally means "have a drink."
"I will probably start out out with a little vodka and club soda, yes. If you spill it, you won't have a problem with the wardrobe. And then there will be the after-show drink. If we have a great show I'll probably do a couple shots of Patron. Actually, you know what? If the show doesn't go well, then I'll have more shots of Patron."
Promotions for
Lopez Tonight
have promised a party atmosphere, a different vibe and no conventional desk for the host. He also hopes to draw a younger audience in league with the demographic makeup for
The Arsenio Hall Show
, which had a five-year run that ended in 1994. Lopez appeared more than any other guest on
Arsenio
. And Hall is one of his early bookings, according to TBS publicity materials.
"Being of a different ethnicity and a different comedic approach, I don't think we're going after the same audience" as rival late night shows, Lopez says. "I don't think there's an African-American audience or a Latino audience that's watching Conan O'Brien that he has to worry about me taking."
He emphasizes, however, that "I've crossed over and I don't want to be divisive. I want to be inclusive . . . And there is no shame in failing as long as you tried the best that you can. That's all I will do. If this show doesn't succeed, I don't think that it hurts me."
Both late nighters are scheduled opposite local newscasts, with Sykes getting a half-hour head start on NBC's
Saturday Night Live
and Lopez doing likewise with NBC's
Tonight Show with Conan O'Brien
and CBS'
Late Show With David Letterman
.
The announced guest list in the early stages of
Lopez Tonight
rivals those of either
Tonight
or
Late Show
. Post-opening night, he's already booked Jamie Foxx, Sandra Bullock, Ray Romano, Charlie Sheen, Queen Latifah, Ted Danson, Larry David, Marc Anthony, Oscar de la Hoya, Kelly Osbourne and Kathy Griffin among others.
"I don't want it to become a home for Jon and Kate (Gosselin) discussions," Lopez says. "I'm tired of that (crap). I wish they would go away. We'd like to keep it more legitimate with real celebrities and just a more eclectic mix of color than what you might necessarily see in late night currently."
Sykes says her opening monologue likely will be on President Obama (who as a candidate did a promo for Lopez's show) and how "everybody's picking on him. It's been only a year since he's been elected and it seems like the man can't do anything right. Everything he does, people find fault with him. I'll talk about that."
She hopes to book future guests such as Chris Rock and Jane Fonda. "And if I can track down Dave Chappelle, I'll get him to come by."
As a foil and punching bag, Sykes says she'd welcome Fox News Channel personality Glenn Beck.
"But to me," she adds, "interviewing Glenn Beck would be like interviewing Forrest Gump. They're not even real people."
Lopez doesn't particularly care who he offends either.
"I'm somebody who's not afraid to throw a punch and directly hit a target. Somebody who's not afraid of retribution," he says.
So ready or not, here they come to a late night screen near you. How they fare is a story for another day.