08/25/09 12:40 PM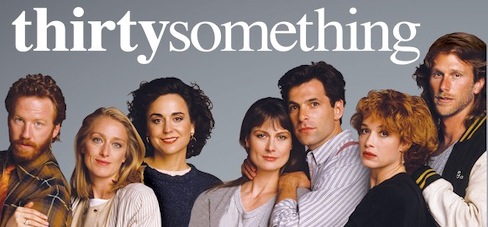 By ED BARK
It's taken 20-some years for Season 1 of
thirtysomething
to show up on DVD.
Consider it the proper aging of a fine whine. Creators Ed Zwick and Marshall Herskovitz didn't know they were kvetching lightning in a bottle when this ABC hour of angst premiered on Sept. 29, 1987.
"It is so important to say that we did
not
want to do a television series," Herskovitz recollects in a two-way conversation with Zwick that's included in the three-disc set's bonus features.
But make it they did -- for four seasons, 88 episodes and a drumbeat of both praise and ridicule. The freshman year, which has 21 episodes, hits the streets on Tuesday, Aug. 25th, courtesy of
Shout! Factory
. The suggested retail price is $59.99, but shop around for bargains.
Coined earlier in the '80s, the term
"yuppie"
had started its engine before
thirtysomething
became its prime-time standardbearer.
"It certainly got pinned on us, the whining little yuppies," co-star Mel Harris remember in another of the set's extras. One writer denigrated the show's principal characters as "skinny white people from hell," which quickly made its way onto T-shirts distributed to the cast.
A summer 1987 interview session with the nation's TV critics, including your friendly content provider, gave the stars and creators a big dose of the polarized opinions at work.
Older critics who already had raised their children well past the toddler stage tended to view new parents Hope and Michael Steadman (Harris, Ken Olin) as aggravating, self-indulgent wimps. Those of us with the fresh smell of diapers in our presents or very recent pasts were far more willing to empathize and relate.
In the end, positive reviews won the day.
thirtysomething
went on to win 13 Emmys, including the "Outstanding Drama Series" trophy in its first season.
Re-watching the show's first episode is mostly an engaging experience, even though much of the "jeopardy" is over Hope's anxiety about whether to hire a babysitter for the first time so that the Steadmans can join their friends on an impromptu camping trip. There's ample sobbing, too.
Herskovitz and Zwick (who's gone on to direct films such as
Legends of the Fall, Courage Under Fire
and
Blood Diamond
) provide a serviceable commentary track for their groundbreaking first episode. They note how network censors "freaked out" over both SBS (Side Breast Exposure) of Harris' character and the appearance of an actual brand name -- Cap'n Crunch -- in the Steadmans' kitchen. All these years later, "product placement" permeates all forms of television, including NBC's deal to "integrate" Subway sandwiches into upcoming new episodes of
Chuck
. It was pretty much deemed the only way to save the show.
thirtysomething
also starred Timothy Busfield as Michael's ad agency partner, Elliot; Olin's real-life wife, Patricia Wettig as Michael's wife, Nancy; Peter Horton (vagabond friend Gary); Polly Draper (Hope's best pal, Ellyn) and Melanie Mayron (Michael's flighty sister, Melissa). They all lived in Philadelphia without ever sounding like Philadelphians. At least not like anyone who would order "one a dem" cheese steaks.
Zwick and Herskowitz, during their 32-minute exchange on Disc 3, readily admit they wrote about people they knew -- and hired them, too. Including their wives as writers.
"The trick was finding actors who could do this kind of really laconic, throwaway, offhand, realistic-seeming dialogue," Zwick says. "And there were surprisingly few."
Some of their conversation bogs down during the pair's mentioning of various writers and producers who were instrumental in bringing
thirtysomething
to fruition. But you also get insights into the almost haphazard way in which the series came to be and then came to stay -- for four seasons at least.
ABC executives kept demanding that the show be called
Grown-ups
, but Zwick and Herskovitz would have none of this. They were vindicated when
thirtysomething
quickly became part of the pop culture lexicon while the show thrived as "the epitome, the apotheosis" of the young, upwardly mobile target demographic that all advertisers yearned to reach. This enabled ABC to charge a "premium" rate for commercials, even though the show never hit prime-time's top 30 during any of its four seasons.
Zwick says that he and Herskovitz always thought "idea/corollary" rather than traditional "plot/subplot" in devising storylines and themes.
In the end, "you accept a certain amount of things that don't work for the sake of a certain number that do," he says.
Post-
thirtysomething
, Zwick and Herskovitz collaborated on two other notable character-driven TV series,
My So-Called Life
and
Once and Again
. They've never gotten it quite right -- ratings-wise at least. But all of these shows, even
thirtysomething
, likely would have lived and prospered longer on HBO -- or in these days, Showtime as well.
"We're old farts now," Herskovitz says. "And we just want the paycheck and who cares about the quality."
"That's a fitting end," Zwick adds.
Neither really means this, although that's how their conversation closes. Being fiftysomething, as both men now are, can re-order priorities and curb the rebel streak. But
thirtysomething
caught them in the moment -- and put them on the spot. They then delivered something for the ages -- title and all.