03/31/11 03:31 PM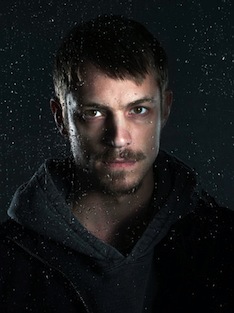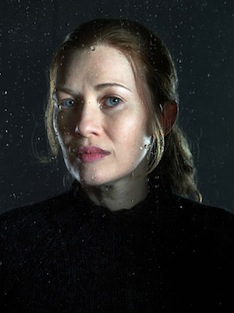 Stars Joel Kinnaman, Mireille Enos of The Killing.
AMC photos
Premiering:
Sunday, April 3rd at 8 p.m. (central) on AMC
Starring:
Mireille Enos, Joel Kinnaman, Billy Campbell, Michelle Forbes, Brent Sexton, Kristen Lehman, Eric Ladin, Chad Willett
Produced by:
Veena Sud, Mikkel Bondesen
By ED BARK
Welcome to beautiful Seattle, where the rain is constant and the characters in this series seem oblivious to it.
So much so that they mostly just stand there and take it, without shielding themselves with umbrellas, hats or even yesterday's newspapers. It must have been a tough shoot, but it's also an aptly bleak setting for the murder of a teenage girl in AMC's latest distinctive drama series.
The Killing
, premiering Sunday at 8 p.m. (central) with back-to-back episodes, leaves any sunny dispositions by the wayside during its peel-away reveals of suspects in the drowning death of 17-year-old Rosie Larsen. The network of
Mad Men
(which now won't return until 2012),
The Walking Dead
and
Breaking Bad
has quickly put itself on a very high plane. Unlike a rival network that claims to "Know Drama," AMC
really
knows drama. How to walk it, talk it and suck viewers into it.
Based on the Danish series
Forbrydelsen
(
The Crime
),
The Killing
will spend all of Season One's 13 episodes tracking who did it and why. Based on the first three episodes made available for review, steady rainfall will be a supporting character, the way cigarettes and booze are in
Mad Men
.
The central character, homicide detective Sarah Linden (Mireille Enos), is called to a crime scene on what's supposed to be her last day of work. Her best-laid plans include a move to Sonoma, CA and marriage to fiance Rick Felder (Chad Willett). Sarah's less than thrilled son, Jack (Liam James), is supposed to be accompanying her.
But you can't plan for murder. Nor for a new partner named Stephen Holder (Joel Kinnaman). He's a former narcotics detective with a dour sense of humor and novel ideas on how to advance an investigation. So they're an odd couple from the start, which is nothing new in the grand TV scheme of things. Yet
The Killing
makes it all seem fresh and inviting, even if we could make do with fewer close-ups of Sarah in deep ponder.
There are parallel stories. Rosie's parents, Stanley and Mitch (Brent Sexton, Michelle Forbes), are sledgehammered by their daughter's disappearance and murder.
The Killing
delves deeply into their grief, and how they comport themselves in front of their two young sons.
Also in the mix is city councilman Darren Richmond (Billy Campbell), a widower who's in the closing stages of his bid to become Seattle's mayor. A car rented by his campaign becomes part of the murder investigation, with Richmond both cooperating with police and fully aware that this could be a death blow to his election hopes. His principal campaign advisor, Gwen Eaton (Kristen Lehman), has been sleeping with him. Another key aide, Jamie Dempsey (Eric Ladin), may not be what he seems.
This all makes for a slowly stirring pot amid weather that should be a capital crime in itself. But Enos and Kinnaman are both first-rate in their roles, and so far there are no super-bizarro Pacific Northwest additives on the order of The Log Lady or Dancing Dwarf from
Twin Peaks
.
The disparate detectives of
The Killing
may have their own means and methods of getting to the bottom of this. But the overall air of believability is palpable from the start. All the better for taking a deep breath and diving right in.
GRADE:
A-minus