11/21/10 10:17 AM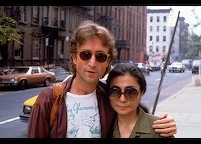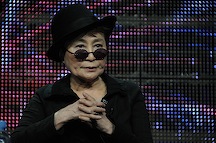 John & Yoko in New York, and current-day Ono during summer interview at Television Critics Association "press tour." PBS photos
By ED BARK
The walrus was Paul, but John Lennon remains The Beatles' lion king.
Post-Fab Four, this became all the more evident. Lennon's activism, ostracism, torments and triumphs during life with Yoko Ono are being revisited in two daringly distinctive PBS presentations.
The 90-minute
Lennon Naked
, premiering Sunday, Nov. 21st under the
Masterpiece Contemporary
banner (
9 p.m. central on KERA in D-FW
), stars a former Dr. Who in the title role. It ends with John and Yoko jetting off to New York City, where they were fated never to return to his homeland.
LENNONYC
(
Monday, Nov. 22nd at 8 p.m. central
) picks up their story with two hours worth of stirring real-life archival materials. Both programs are airing in the year he would have turned 70 and during the month before the 30th anniversary of his murder.
Lennon Naked
is the lesser of the two projects, but not by all that much. Christopher Eccleston, bearing a suitably passable resemblance to Lennon, portrays him as an alternately self-absorbed and self-effacing bloke whose long estrangement with his father, Freddie (Christopher Fairbank), is as central to the story as his meeting and mating Yoko Ono (Naoko Mori).
Also a key player is Lennon's first wife, Cynthia (Claudie Blakely), whom he eventually coldly discards along with their son, Julian. In that respect, Lennon has replicated the conduct of his own parents, whose divorce made a waif of him at age six. Mother Julia dumped him on his Auntie Mimi. Father Freddie stayed away for 17 years.
The three other Beatles are mostly stick figures, with Andrew Scott's Paul McCartney allotted a scene or two of genuine impact after Lennon decides to break away.
Pointing to his head, he tells Paul, " 'Cause up here, it's over."
"But out there it's not," Paul rejoins to no avail.
Lennon then briefly but affectionately brushes McCartney's face. "See ya," he says.
Lennon Naked
is based on "real events," but some scenes are the "invention of the writer (Robert Jones)," viewers are informed. The inventions are most inspired in a closing scene between Lennon and his father. He has just recorded "Mother," with its searing, wailing lyrics, "Mama, don't go, daddy come home."
"It's not like The Beatles, is it?" Freddie remarks.
John continues to upbraid him, ignoring his father's defense that "I did me best, John."
"Julia was a whore, and then she died. And you were a waste of space," he's told.
It's a raw and affecting scene, borne of John's earlier primal scream therapy sessions with Art Janow (Allan Corduner).
Lennon Naked
dawdles at times, too, regularly resorting to symbolic images of an adult John underwater and a little John gazing upward at kites and balloons. It's also can be hard to distinguish Lennon aides/gofers Pete Shotton and Derek Taylor (Adrian Bower/Michael Colgan) from one another.
"Everybody loves me. That's like saying nobody does," he tells one of them.
The John and Yoko scenes ("she's as cracked as I am") are for the most part serviceable. But Lennon's final kiss-off to first wife Cynthia has more of an impact. "You're cruel and spiteful," she tells him. And in this case, she's right, underscoring the fact that
Lennon Naked
is unafraid to spare the varnish.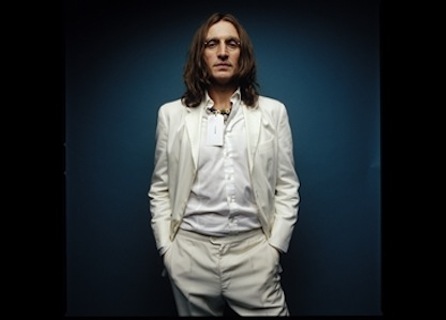 Christopher Eccleston in Lennon Naked PBS photo
LENNONYC
is far more of a loving tribute, although it does spend considerable time on John's drunken/drugged Los Angeles period during his 1974 estrangement from Ono.
Those were the days of headlines such as, "Swinging Beatle in Troubadour Melee." Earlier on that same night, Lennon had emerged from another nightclub's restroom with a Kotex affixed to his forehead.
"There was nobody there to support me, and I fell apart," he said in a later interview.
Reuniting with Ono, backstage after an impromptu New York City concert with Elton John, essentially saved Lennon's life. It led to his period as a doting stay-at-home dad to their son, Sean, before a triumphant return to record-making for the acclaimed "Double Fantasy" album with his wife.
LENNONYC
, airing as part of PBS' much-lauded
American Masters
series, is brimming with evocative still photos and never before aired audio recordings, concert outtakes and home movies. The most poignant of all is Sean's singing "Do you need anybody? I need somebody to love" before telling his dad, "That's my favorite song."
The federal government's continued efforts to deport him, launched by the Nixon White House, are also detailed at length. The grounds for sending him back to England were an old drug possession charge, but it's clear that the ulterior motive was his very public anti-Vietnam War stance.
Lennon at long last got his Green Card. Asked by a reporter whether he bore any resentments, he joked, "No, I believe time wounds all heels."
Friends of Lennon say he was planning both a world tour and a return to England when his life was taken on the night of Dec. 8, 1980 by a young man for whom he earlier had signed an autograph. His name isn't mentioned in
LENNONYC
, and won't be here either. Ono, who very much cooperated in the making of the film, is still coming to grips with that horrific night.
"He was an artist," she says. "Why would you want to kill an artist?"
Why indeed?
GRADES
Lennon Naked
-- B+
LENNONYC
-- A