10/20/08 02:21 PM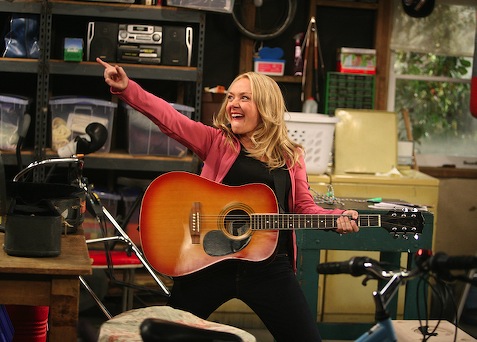 Premiering:
Monday-Friday at 7:30 p.m. (central) on Lifetime before moving to regular Tuesday 7:30 p.m. slot next week
Starring:
Nicole Sullivan, Richard Ruccolo, Tisha Campbell-Martin, Natalie Dreyfuss, Kelly Gould, Raviv Ullman, Ian Gomez
Produced by:
Nastaran Dibai, Jeffrey B. Hodes, James Berg, Stan Zimmerman
By ED BARK
What's the best to be said about the new Lifetime sitcom
Rita Rocks
?
Arguably, it's possibly harmless in the grand scheme of things. But don't hold me to that.
MADtv
alum Nicole Sullivan, a standout during her six seasons on the longrunning Fox late-nighter, has nabbed the title role in this four-star clinker. Yes, she deserves better, but this is her choice, not ours. Boy, the checks had better clear.
Sullivan plays homebound, harried mom Rita Clemens, who "used to have such dreams" for herself. Instead she's mostly stuck in prototypical '80s sitcom hell with bratty teen daughter Hallie (Shannen Doherty lookalike Natalie Dreyfuss) and her ever-present, dim bulb boyfriend, Kip (Raviv Ullman), whose first words are "What ups?"
There's also a cute, bespectacled pre-teen daughter named Shannon (Kelly Gould) and hubby Jay (Richard Ruccolo), a breadwinner otherwise devoted to his Fantasy Football league activities.
Through luck of the draft, he's got Tom Brady on his team, Jay brags.
"Yay for your fake thing," Rita says gamely.
Little does she know -- but maybe the producers do -- that Brady suffered a season-ending injury in the New England Patriots' first game. So perhaps they could dub in Tony Romo? Wait, that might not work either.
Rita Rocks
, which of course is equipped with an annoying laff track, gets its title from mom's latent interest in revisiting her garage band youth. And it just so happens that saucy postal carrier Patty (Tisha Campbell-Martin from
My Wife and Kids
) plays a "mean organ" for a church choir.
First, though, Patty riffs briefly on a pit bull that "took a chunk out my ass" while she walked her mail route. Remarkably, Kip isn't around in this particular scene to again rejoin, "What ups?"
Rita, a guitar strummer, eventually joins Patty and unemployed next door neighbor Owen (Ian Gomez) in singing "Try a Little Tenderness." Kip chips in on some makeshift drums, re-birthing
The Partridge Family
shorn of any blood relatives.
Sullivan tries awfully hard to make a go of
Rita Rocks
in times when the once dominant sitcom genre is gasping for air time on both broadcast and cable networks. Gasp, no wonder.
GRADE:
D