06/26/09 05:09 PM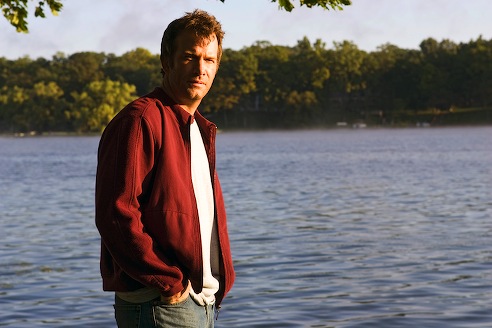 Thomas Jane is anything but half-cocked in HBO's Hung.
Premiering:
Sunday, June 28th at 9 p.m. (central) on HBO
Starring:
Thomas Jane, Jane Adams, Anne Heche, Eddie Jemison, Sianoa Smit-McPhee, Charlie Saxton, Rebecca Kreskoff, Loren Lester
Created by:
Dmitry Lipkin, Colette Burson
By ED BARK
HBO's next big thing really is.
It's a terrific new series,
Hung
, about a down-and-out former high school sports stud with a prodigious penis. (Insert Members Only joke here.)
Launching Sunday with an elongated -- OK, I'll stop -- 45-minute episode, this is nowhere in the vicinity of
Boogie Nights
or the porn industry. Instead, Ray Drecker (Thomas Jane) is a divorced Detroit high school basketball coach whose team stinks and to whom other bad things also happen. At rope's end, he finds himself heeding the call of a would-be poet and recurring bedmate (Jane Adams as Tanya Skagle), who upbraids him by saying, "You want to be a millionaire? Why don't you go market your dick?"
Jane, who played Mickey Mantle in the acclaimed HBO movie
61*
, manages to play this role -- and do this role-playing -- in an appealing, all-but-guileless manner that's almost guaranteed to make you root for him from start to finish. Adams is likewise letter-perfect as a somewhat plain Jane who ends up being both his confidant and marketer. Or pimp if you will. It's a deft reversal of business as usual.
Narration and flashbacks get viewers to this point without tarrying too long.
Ray use to be married to Jessica (Anne Heche), who since has left him to marry a prosperous dermatologist named Ronnie Haxon (Eddie Jemison).
After the divorce, Ray moves into the now well-worn lakeside home he inherited from his parents. His twin teen children, Damon and Darby (Charlie Saxton, Sianoa Smit-McPhee), prefer living with dad until a middle-of-the-night electrical fire leaves his abode in severe disrepair. They scurry back to mom after Ray pitches a tent on the front lawn while wondering how he'll ever get enough money to rebuild the home, on which he allowed the insurance to lapse. He's also being squeezed hard by an adjustable rate mortgage.
"What happened to my life?" narrator Ray wonders. "I used to be a big deal. I used to be goin' somewhere. Now all I ever seem to do is try not to drown."
Millions of American know the feeling, and
Hung
's creators are fully aware of this. The series opens with shots of a badly decaying Detroit, where the once venerated Tiger Stadium is being torn down while unemployment keeps going up. Desperate times call for desperate measures. So Ray impulsively places an ad promising that "Big Donnie will give you every inch of his love."
Tanya eventually decides to throw in with him, and that's when
Hung
really starts to roll. Episode 2 (which won't air until July 12 because of the Fourth of July weekend) finds Ray grudgingly succumbing to some of her marketing ploys. Not that this is his first rodeo.
"My technique is fine," he insists. "I've been pleasing women for decades. You're not my only screamer."
Hoping to take their budding business to a new level, Tanya calls on a former law firm colleague named Lenore (Rebecca Kreskoff), who's been making a mint as a professional shopper for "recession proof" wealthy women. Perhaps they'd also like to enjoy Ray's services? Lenore first wants to test the merchandise, and their liaison is wickedly funny.
None of this is even remotely coarse or sophomoric.
Hung
has ample profanity but scant nudity in these first two episodes. It's funny, smart and even touching in ways that HBO's other ex-jock comedy,
Eastbound & Down
, clearly has no hopes of matching.
This then is a series that doesn't think with its penis. The writing, acting and overall thrust are of a higher mind than that. Ray may be a "man whore," as Tanya at first calls him. But in the end he just wants to pay his bills and get his basketball team a few stinkin' wins.
GRADE:
A