02/29/12 04:26 PM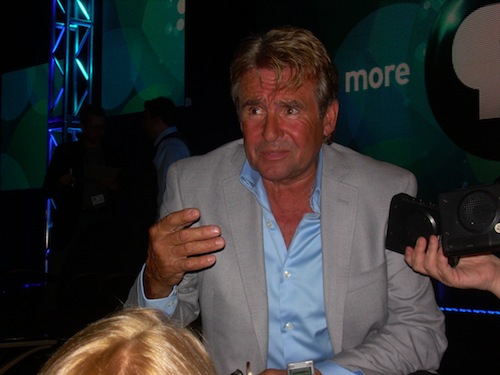 Davy Jones in late July 2011 during the PBS portion of the summer Television Critics Association "press tour." Photo: Ed Bark
By ED BARK
Wednesday's sudden death of Davy Jones, at age 66 of a heart attack, is not in the same league with losing a Beatle.
But The Monkees for a time were a wildly popular knockoff of the Fab Four, even though their NBC television series lasted just two years beyond its Sept. 12, 1966 premiere.
Jones, the group's heartthrob lead singer and principal torch carrier, is the first Monkee to breathe his last. Micky Dolenz, Peter Tork and Michael Nesmith remain, although the latter wanted no part of The Monkees in later years.
Jones made this emphatically clear during an interview with me after a July 30, 2011 session tied to a PBS pledge drive special titled
Pop Rock: My Music
. Jones co-hosted with former Herman and the Hermits star Peter Noone. Both re-crooned some of their respective group's hits while also welcoming Chad and Jeremy, Percy Sledge, Paul Revere and the Raiders and The Kingsmen among others.
"It'll never happen," Jones said of any future reunion of all four Monkees. "Mike Nesmith does not belong in the group anymore. He doesn't sing in the group. He doesn't perform like Micky, Peter or I do. There's no place onstage for Mike Nesmith anymore. He stands there. We are animated. We move, we dance, we talk. He doesn't want to be in the group, so why push the point?"
It wasn't as though they were enemies. Nesmith simply had made a clean break from the group while Jones, Dolenz and Tork continued to turn back the clock to the tune of some still very listenable Monkees hits. Among them were "I'm a Believer, Daydream Believer, Pleasant Valley Sunday" and "Last Train to Clarksville." Pretty good stuff.
"My voice is better, I sing better, I'm feeling better about my life," Jones said. Even though he also joked about singing "Denture Queen" at this point in his career while one of Herman's Hermits' biggest hits has been retitled "Mr. Brown, You've Got a Lovely Walker."
Oldies groups aren't living in the past, he said. "They are just taking advantage of the things that made them successful. You know, Tony Bennett probably gets pissed off every time he sings 'I Left My Heart in San Francisco.' But maybe he doesn't, you know. Maybe he wishes he had 10 more of those."
Jones was 65 when he said that. I also interviewed him roughly 35 years earlier as a student reporter for the University of Wisconsin-Madison newspaper,
The Daily Cardinal
. He was part of the "Great Golden Hits of The Monkees Show," which also included Dolenz and songwriter-singers Tommy Boyce and Bobby Hart.
During a lunch appointment at a Holiday Inn, Jones let Dolenz do most of the talking. Not that he had much choice. The "cuddly" Monkee, who received the lion's share of the group's fan mail, seemed distant and a bit weary of it all.
"We didn't walk down the streets," he said of the days when
The Monkees
TV show juiced NBC's Monday night schedule. "We stayed home. We missed out on a lot of stuff."
Only about 150 diehard fans attended their early show at Madison's long defunct Spectrum Club that night. And the second show drew an even smaller but still enthusiastic crowd.
"Mickey's a little crazier and I'm not any taller," Jones joked after Dolenz wore a rubber cobra and sequined sunglasses for his version of "I'm Not Your Steppin' Stone." He then segued into the ballad "I Want To Be Free" while walking down one of the Spectrum's candy-striped, illuminated runways.
Jones was discovered by NBC after playing The Artful Dodger in a Broadway production of
Oliver
. He received a Tony Award nomination before becoming a Monkee. Much later in his eventful life, Jones returned to
Oliver
as the villainous Fagin.
"My Fagin was as good as any Fagin," he said last summer. "As good as Alec Guinness, Ron Moody, Clive Revill -- any of these people. But you'd have to see it to believe what I'm sayin'. "
Jones said he still yearned to play the Joel Grey role in
Cabaret
or take a spin in
Stop the World -- I Want to Get Off
.
"As a 65-year-old man, I can't be doing Barnum," he reasoned. "You know, bouncin' on a friggin' high wire."
He could still bounce around as a Monkee, though. And so he did -- in five different decades after the show's cancellation.
"The hardest part is going back to the hotel room" after being "somebody's Elvis" for a few hours, Jones said. "Then I'm just a 65-year-old man sitting there."
Such was life for a kid who rode the wave and never really stopped. Too much Monkee business? Perhaps. But from the Spectrum Club in Madison to a national PBS pledge drive, a lot of people stayed in sync.
"They used to throw knickers, and now they are throwing Depends," Jones said. "What can I say?"