01/30/08 08:59 AM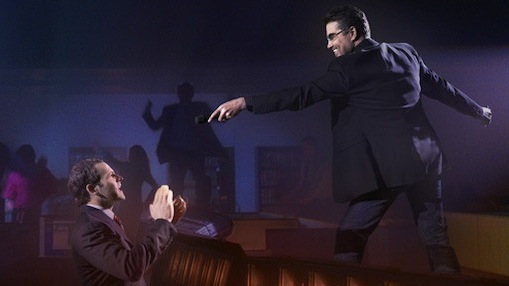 Attorney Eli Stone has visions, including one of George Michael.
Premiering:
Thursday, Jan. 31 at 9 p.m. (central) on ABC
Starring:
Jonny Lee Miller, Victor Garber, Loretta Devine, Natasha Henstridge, James Saito, Matt Letsher, with guest appearances by Tom Cavanaugh, George Michael
Created and produced by:
Greg Berlanti, Marc Guggenheim
By ED BARK
Hard-core "procedural" crime series aren't ABC's style. Or as network entertainment president Stephen McPherson put it to TV critics last summer, "I don't think you're going to see a lot of dark, dark cop dramas or really serious and downtrodden material from us."
The network's new
Eli Stone
, premiering Thursday after the return of
Lost
, is largely light, light and up-trodden despite its title character's inoperable medical diagnosis. He has a small brain aneurism, as did his distant, heavy-drinking dad (a small guest shot by former
Ed
star Tom Cavanaugh). This causes attorney Eli (Jonny Lee Miller) to have cryptic hallucinations, with George Michael's impromptu performances of "Faith" spurring him toward a good deed in the series' opener.
This obviously is a very eventful period for guys named Eli, with the littlest Manning bro and his underdog New York Giants taking on the unbeaten New England Patriots in Sunday's Super Bowl. It's pretty easy to root for both of them, even if the American Academy of Pediatricians has urged ABC to rub out
Eli Stone
's first episode. That's because it raises questions about a vaccine preservative (given the fictional name of mercuritol) that is suspected of causing autism in a young boy.
Eli's recurring visions prompt him to represent the child's mother in direct opposition to his big, wealthy law firm, which is backing the pharmaceutical company that manufactures the vaccine. ABC now says it will add a disclaimer to the episode while also publicizing the autism Web site of the Center for Disease Control and Prevention, which sides with the pediatricians' organization.
That all sounds pretty heavy, which
Eli Stone
really isn't. Thursday's premiere begins in a snowy Himalayan village, where a few sight gags hit the spot before the show shifts back in time to the San Francisco law firm headed by imperious Jordan Wethersby (Victor Garber), whose beauteous daughter, Taylor (Natasha Henstridge), is engaged to Eli.
Narratively speaking, the young lawyer has been "worshipping the holy trinity of Armani, accessories and my personal favorite, ambition." But that's all going to change, thanks to of all people, George Michael.
Eli also has a saucy assistant named Patti (Loretta Devine in scenery-chewing mode) and a Chinese acupuncturist, Dr. Chen (James Saito), who fakes an Oriental accent but otherwise serves as something of a Master Po or Kan to a current-day "Grasshopper."
At its worst,
Eli Stone
is inspired nonsense. Or maybe many viewers will embrace it as a magical invitation to unfettered idealism, with Eli representing two illegal but otherwise noble and Americanized Hispanic immigrants in next Thursday's episode. (OK, some in Farmer's Branch won't be entranced, although the episode also has Eli throwing out the caveat that, yes, illegal immigration is still a major problem.)
Some of this is too preachy and fantastical. And why is it that Eli's hallucinations -- in the second episode it's a choir singing "Freedom" -- always make an entrance whenever he's making love? Wah-wah-wah.
You could do lots worse, though, and ABC already has with its earlier midseason replacement,
Cashmere Mafia
. This series has far more relatable characters and a digestible feel-good premise. If
Eli Stone
lasts long enough, ABC should arrange a crossover episode between its latent do-gooder and crazed Denny Crane of
Boston Legal
.
That's a vision in itself.
Grade:
B