10/31/06 12:00 PM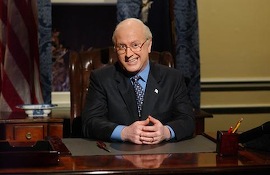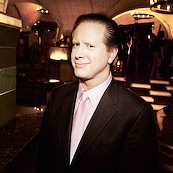 Dick Cheney digs it when Darrell Hammond mocks him.
By ED BARK
Saturday Night Live
stalwart Darrell Hammond is best known for his impersonations of Bill Clinton. Or maybe you prefer his Sean Connery, Dick Cheney, Arnold Schwarzenegger, Chris Matthews, Donald Trump or Al Gore. The one that got away still vexes him, though.
After Will "Strategery" Ferrell left
SNL
in 2002, Hammond got his shot at doing George W. Bush. But he failed to nail him in two on-air tries. Eventually Will Forte managed to make Bush his own while Hammond reverted back to Cheney.
"I would call that the great disappointment of my career," Hammond says in a telephone interview tied to his one-man
SNL
show this Saturday (Nov. 4). "I think part of it was I was so heavily influenced by Will Ferrell, and there wasn't a lot of time to put it out there. I just never got a handle on it, and it went poorly a couple of times. So I thought it was time for me to step down ... I had no real basic understanding of how to do this guy."
That's a rare admission of defeat for Hammond, who's in his record-setting 12th consecutive season on
SNL
. At age 51, perhaps it's time for him to go. It's certainly crossed his mind but Hammond finds it tough to kick the habit of "just sort of hanging around drinking coffee and waiting for somebody to ask me to start practicing somebody."
"It's hard not to love playing really powerful, famous people in front of millions of people," he says. "It's hard not to get hooked on that, and I
am
hooked on that."
None of the powerbrokers he's lampooned has ever told him to knock it off, Hammond says. And unlikely though it may seem, one of his best audiences has been the outwardly taciturn Cheney.
The vice president is "the guy that ended up being the most charming and forthcoming about it, and the most fun to talk to about it," says Hammond, who's attended one of Cheney's Christmas parties. "I always felt when I met him there was a sense of good feeling there. He's just been very complimentary in a general sense."
The Nov. 4
SNL
, airing just three days before Tuesday's mid-term elections, will give Hammond an unprecedented forum. No ongoing cast member has ever got a "Best of" special.
"Yes, it is an honor. It really is," Hammond says. "I graduated from college with a 2.1 (grade point average) and really had no hopes, no prospects."
He co-hosted a big John McCain party at the 2002 Republican National Convention in New York. But Hammond's bread-and-butter guy is still the only Democratic president of the past quarter-century. So yes, he'd like to see Hillary Rodham Clinton run strong as a presidential candidate because that would put her husband firmly back in the picture.
"I would love to play Bill Clinton as many more times as I could play him in my career," Hammond says.
He's also done lesser known mockups of Bob Costas, Bill O'Reilly, Dan Rather, Geraldo Rivera, Rudolph Giuliani, Jesse Jackson and Donald Rumsfeld, who wasn't particularly easy to grasp.
"I had to learn to do Rumsfeld a couple of days before the show," he says. "I had to break that down quickly. I finally settled on early Henry Fonda from
The Grapes of Wrath
."
His sendups of Connery as an Alex Trebek-baiting
Jeopardy!
contestant are the most popular with fans, he says. The fake Connery's distaste for Trebek makes no logical sense, Hammond agrees. Coming up with the idea "really was just a combination of strong coffee and late hours."
Impressions won't last forever, though. Post-
SNL
, Hammond sees himself as a standup comic writing his own material. Mimicking famous people would be part of the show, but not to the point where "it ends up being a magic act."
Still, "if I get typecast, then I get typecast," he says. "That's not the worst thing that could ever happen to me in my life."