The address is CBS -- for the first month of the season at least (as for the Peacock, it's plucked)
10/23/08 02:35 PM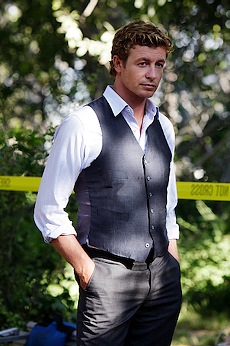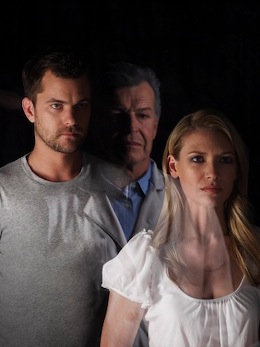 Simon Baker of CBS' The Mentalist and Fox's Fringe group
By ED BARK
The 2008-'09 TV season is a month old, all of fall's freshman series have finally premiered, and so far only CBS is walking with a swagger in the almighty national Nielsen ratings.
Led by
The Mentalist
-- the only new series to rank in prime-time's top 10 -- CBS leads the pack in both total viewers (an average of 11.5 million) and advertiser-craved 18-to-49-year-olds (4.3 million).
Fox has already sacked one of its newbies, the dreadful
Do Not Disturb
. On the upside, its sci-fi chiller
Fringe
is still whipping
The Mentalist
for the top spot with 18-49-year-olds among all new series.
For now, though, no network except CBS has any early season momentum. Its new
Eleventh Hour
is No. 17 in total viewers, joining
The Mentalist
in proving that "procedural" crime series are still paying off big-time on a network that now has 10 of 'em. And CBS' latest Monday night sitcom,
Worst Week
, is tied with ABC's heavily touted but already sinking
Life on Mars
for the 29th spot among all new series.
Yes,
Worst Week
benefits greatly from its Monday night lead-in --
Two and a Half Men
. It also forfeits a good deal of it, as have all CBS comedies following
Two and a Half Men
. CBS'
Gary Unmarried
(currently No. 44 among all shows in a far less hospitable Wednesday slot) could eventually get this higher-profile Monday gig if a just-announced, Oct. 27th test -run fares any better. We'll see.
Meanwhile, ABC's
Mars
isn't exactly panhandling. Its weekly Thursday night warmup act is ABC's
Grey's Anatomy
. That provided a big opening night boost for a show that's received 10 times the publicity -- and critical acclaim -- of
Worst Week
.
But in
Mars
' second week, it tumbled from an opening high to a drubbing by CBS' competing
Eleventh Hour
, which itself is feeding off weekly energy boosts from the network's
CSI: Crime Scene Investigation
.
These are nothing but the facts, according to Nielsen Media Research numbers spanning the season's official Sept. 22nd start through Sunday, Oct. 19th. If a show's quality drove its ratings, then NBC's Emmy-winning
30 Rock
(finally returning for its third season on Oct. 30th) would be way up in the ratings food chain. Alas, it ranked a subterranean 111th for the full 2007-'08 TV season.
The Peacock is in terrible shape already. Its highest-rated new series,
Knight Rider
, is in a 44th place tie with
Gary Unmarried
.
NBC's
My Own Worst Enemy
already has proven to be its own worst enemy after just two outings.
America's Toughest Jobs
, which premiered before the official start of the season, will be permanently unemployed after Saturday's throwaway season finale. And the new
Crusoe
's two-hour premiere last Friday barely beat fellow newcomer
The Ex-List
, which so far is CBS' only indisputable ratings clinker.
ABC's not doing so hot either. Its other new fall series,
Opportunity Knocks
, has already been dumped. A far higher-quality group of sophomore returnees -- most notably
Pushing Daisies
-- is falling short of even last season's less than impressive ratings. But ABC still has
Grey's, Anatomy, Dancing with the Stars
and
Desperate Housewives
, all of which so far remain in prime-time's top 10.
NBC has virtually nothing going for it in prime-time except
Sunday Night Football
(No. 7 overall). And its expiration date comes just when Fox is gearing up both
Idol
and
24
. The Peacock's highest-rated show in the total viewer Nielsens otherwise is No. 25
Law & Order: SVU
.
When all is said and done, NBC is a virtual lead pipe cinch to again finish fourth for the third straight season in both total viewers and with 18-to-49-year-olds. But it will beat the CW, which already is miniscule and down in all areas from the same time last year, even among its target audience of 18-to-49-year-olds.
Fox, even with a so far problematic World Series (in the Game 1 ratings at least), will still do far better than it would have without it. Then the heavy artillery comes in --
American Idol
and
24
-- while
House
and
Bones
continue to make their bones.
All of that and more again makes Fox the network to beat among 18-to-49-year-olds, where it's been on top for the past four seasons.
But CBS, which lost the total viewers race to Fox for the first time ever last season, looks primed to retake that title.
After all, CBS still has the amazingly resilient
NCIS
, which even more incredibly is tied with ABC's
Grey's Anatomy
for the No. 3 spot in total viewers (18 million apiece). The Mark Harmon-led drama series also has perked up considerably with 18-to-49-year-olds, where it ranks a heady 22nd through the first four weeks of the season.
In turbulent television land, an end-of-the-season programming miracle next May would be both a top 10 finish for
NCIS
in total viewers (it was No. 14 last year) and a top 30 ranking among 18-to-49-year-olds, where it ran 68th.
It just might happen.