Picking a bone with PBS' Through A Dog's Eyes
04/20/10 10:07 AM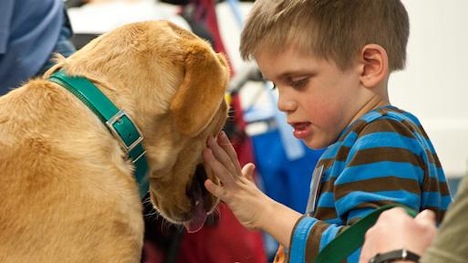 Six-year-old Aiden Young with service dog Nala. PBS photo
By ED BARK
Funded by Milk Bone and narrated by the now ubiquitous Neil Patrick Harris, PBS'
Through A Dog's Eyes
is well-intended and suitably heartwarming while also begging a question.
Namely, what role does the constant feeding of treats play in the bonding of canines and their special needs masters?
"Dogs don't need to be forced to work for us. They're born wanting to," Harris says. They also love treats, though. And for every service rendered there's always a treat in return during this one-hour special (
Wednesday at 7 p.m. central on KERA13
).
The not-so-subliminal message is that you might as well buy Milk Dog brand products to keep your furry friend in a caring mode. But the seemingly pivotal importance of treats is never addressed in
Through A Dog's Eyes
. Instead, Harris and the founder of Georgia's Canine Assistance Organization, Jennifer Arnold, keep imparting the message that dogs "want and need to make people happy." Yeah, but . . .
Several prime candidates for assistance dogs are highlighted in the program.
Aiden Young, 6, has cerebral palsy but a buoyant, upbeat demeanor. He's first matched with a dog named Nala, who like her fellow canines has gone through 18 months of training.
Bryson Casey, 30, survived a tour of duty in Iraq but was seriously injured back home in a car accident. He's now a quadriplegic who could use a lift from Wagner.
Twins Chase and Connor, 6, have a form of cerebral palsy known as spastic diplegia. Oakley and Nadia eventually are matched with them after an initial false start.
And Destiny O'Brien, 11, who has a rare form of epilepsy, hopes to have a lasting helpmate in Salsa.
The dogs with special abilities and persons with special needs go through a two-week training process at the Canine Assistance center before giving it a go in their respective homes. Not all partnerships work out. And some are tougher going than others. But on average, nine of 10 relationships work out, viewers are told.
Bryson Casey and Wagner are one of the success stories. "He makes me proud when I go out in public, 'cause they see what a good dog he is," Bryson says proudly. "He's such a handsome dog, too. He's really changed my life."
Through A Dog's Eyes
is well worth watching for this reason and others. But as we see, Bryson also has a canister of treats at the ready while seated in his wheelchair. A dog's love of humankind can be very touching to behold. Whether it's truly unconditional remains open to question, but tilted toward Milk Bone.
GRADE:
B