Idol adds three more finalists, will fill out field via Thursday's "Wild Card" show
03/05/09 07:16 AM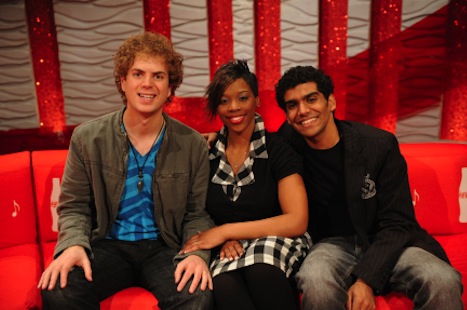 Top 12 finalists Scott MacIntyre, Lil Rounds, Jorge Nunez Fox photo
By ED BARK
American Idol
viewers voted in three more Top 12 finalists Wednesday before judges announced eight "Wild Card" picks for Thursday's last chance sing-off.
Your friendly prognosticator got the two easy ones right -- Scott MacIntyre and Lil Rounds -- but missed on Jorge Nunez. That makes seven of nine correct picks, with the final three to be selected by judges after Thursday's performances. The eight "Wild Card" selections are:
Ricky Braddy
Megan Corkrey
Tatiana Del Toro
Anoop Desai
Matt Giraud
Jesse Langseth
Jasmine Murray
Von Smith
I'll hazard some guesses, even though the three final picks supposedly will be based on Thursday's live performances.
So far the final field is composed of six guys and three girls. This almost mandates that the judges select at least two women from the Wild Card field. Otherwise the Top 12 would be unprecedentedly top-heavy with eight men.
So who will the lone guy be? I'll go with Anoop Desai, the most likable male. He'd also add more diversity. And don't discount the
Slumdog Millionaire
factor.
The women's field looks like a three-way battle among Corkrey, Murray and, groan, the ultra-histrionic Del Toro, who unfortunately can sing as well as weep.
Murray had the dreaded lead-off spot in this season's first 12-way sing-off show. Tonight that won't matter. I'll pick her to get in.
Corkrey's a particular favorite of judge Simon Cowell. So unless she blows it big-time, I'll go with her.
On the other hand, Del Toro would make for what amounts to "good television" in these reality/competition-infested times. So she could derail Corkrey if her vocal hits the jackpot. Either way, she'll have another meltdown.