Game of Thrones returns for more heavy duty evil-doing
03/29/12 09:32 AM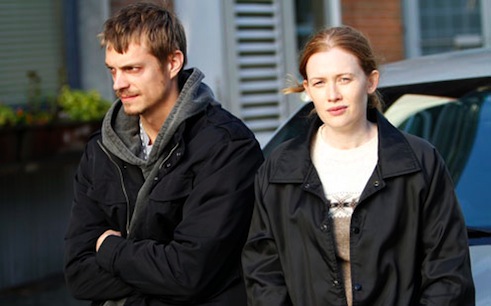 A merry old soul he's not: Teen King Joffrey. HBO photo
By ED BARK
Depravity and duplicity reign with impunity in HBO's
Game of Thrones
.
The first four episodes of a 10-part Season 2 again are testament to that. Therefore they're not for the faint of heart -- or perhaps even the entirely sound of mind.
Ah, but it surely is a handsome production. And damned if it doesn't make us current-day earthlings seem manifestly civilized in our thoughts, words and deeds.
Adapted from the sprawling George R.R. Martin fantasy novels and praised as "Shakespeare for idiots" and "totally unsentimental junk" by
GQ
magazine,
Games
gets its game back on
Sunday, April 1st at 8 p.m. (central)
.
Its thoroughly dedicated fanboy followers (aided and abetted by assorted geeks, fantasy dwellers and just plain folks) tend to take severe umbrage to any naysaying. For them this is religion. For me it's a beautifully filmed, fitfully coherent, torture-and-sex-spiked tale of power lost and found. It slogs, it sprints, it sometimes even enthralls. But all in all I'd rather watch HBO's
Luck
, which now is no more.
Thrones
certainly does succeed, however, in stoking a powerful hatred for the current occupant of the Iron Throne in the not-so-joyous kingdom of King's Landing. He's the utterly amoral, astoundingly evil, egregiously egotistical teen King Joffrey (Jack Gleeson), the punk who happily presided over the beheading of noble Eddard "Ned" Stark (Sean Bean) near the close of Season 1.
The surviving Starks are now all over the place, save for poor oldest daughter Sansa (Sophie Turner). She's the terrified, brainwashed "milady" of Joffrey, who at the very least deserves a severe case of pus-running acne for the way he's treated her.
The younger Stark daughter, Arya (Maisie Williams), has escaped and is masquerading as a boy while oldest brother Robb Stark (Richard Madden) seeks to marshal the forces to overthrow Joffrey and thereby avenge his father's death. But he intends to be noble in this quest, which makes him a stark exception in a series rife with connivers and knuckle-draggers.
Through it all, the dwarf Tyrion Lannister (Emmy-winning Peter Dinklage) keeps plotting, scheming and quipping. He's the brother of Joffrey's mother, Cersei (Lena Headey), who delivered him after being impregnated by her now imprisoned brother, Jaime (Nikolaj Coster-Waldau).
Small though he may be, Tyrion has the chops to talk back to both the king and Cersei. But he also has a knack for the deft one-liner, telling Cersei in Sunday's opener, "You love your children. It's your one redeeming quality. That and your cheek bones."
Tyrion has come to King's Landing with his whore girlfriend secretly in tow after she begs to accompany him.
"Cities make me want to (have sex)," she tells him.
"And so did the country," Tyrion riffs. Dinklage again is delish in this role, although he's also fully capable of just about any atrocity in the interests of furthering his growing power.
Meanwhile -- and there are lots of meanwhiles -- the widowed Daenerys Targaryen (Emilia Clarke) has scraped together the remnants of her Dothraki subjects for a traipse through the dusty Red Waste. But her aces in hand are three baby dragons birthed in the jarring closing scene of Season 1 after she strode into a fiery funeral pyre toward her dead husband Khal Drogo (Jason Momoa).
Numerous other power-seekers populate the
Thrones
landscape. Rivaling King Joffrey in the thoroughly reprehensible department is brothel owner Petyr "Littlefinger" Baelish (Aidan Gillen). He's also the resident "Master of Coin" (treasurer) at King's Landing. And if you gave a penny for his thoughts, they'd all be either evil or luridly carnal.
New characters this season include the imposingly brawny Brienne (Gwendoline Christie), a female knight in armor who looks ready and able to block Baylor basketball star Brittney Griner's jump shot.
Some very nasty deeds (but of course) take place in these first four episodes of Season 4. And there's one big phantasmical occurrence as well. It's all a lot to swallow, let alone digest. But
Game of Thrones
nonetheless is an undertaking worth applauding for its audacity if not always for its overall senses of direction or cohesion.
Those who have devoured the books are already panting in anticipation. Those who haven't can be excused for averting their eyes when things get cringe-worthy or hitting the pause button before asking, "What the deuce?"
GRADE:
B+