Newby Glee is most-nominated weekly series, with fellow freshman Modern Family and HBO also running strong in latest Emmy nominations
07/08/10 08:17 AM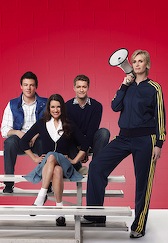 The casts of Glee and Modern Family Fox/ABC photos
By ED BARK
First-year comedies
Glee
(Fox) and
Modern Family
(ABC) scored big in prime-time Emmy nominations announced Thursday while ABC's
Lost
bowed out with the most nominations of any broadcast network drama series.
HBO again racked up the most nods of any network, though, with its miniseries
The Pacific
amassing 24 to lead all programs.
Last year's respective drama and comedy winners, AMC's
Mad Men
and NBC's
30 Rock
, also are very much in the running again with 17 and 15 nominations respectively.
Glee
drew 19 nominations and
Modern Family
, 14.
The made-for-TV movie category was dominated by HBO's
Temple Grandin
and
You Don't Know Jack
, with 15 nominations each. Claire Danes and Al Pacino, who played the title characters, are both acting nominees.
Joining
Glee, Modern Family
and
30 Rock
among the "Outstanding Comedy Series" nominees are NBC's
The Office
, HBO's
Curb Your Enthusiasm
and Showtime's
Nurse Jackie
.
Besides
Lost
and
Mad Men
, the "Outstanding Drama Series" field is made up of CBS'
The Good Wife
, HBO's
True Blood
, Showtime's
Dexter
and AMC's
Breaking Bad
.
The "Outstanding Miniseries" category has just two nominees, with
The Pacific
a prohibitive favorite to beat PBS'
Return to Cranford
.
The "Outstanding Made-for-TV Movie" field is rounded out by HBO's
The Special Relationship
, PBS'
Endgame
, Lifetime's
Georgia O'Keeffe
and History Channel's
Moonshot
.
NBC's critically acclaimed made-in-Austin
Friday Night Lights
again was excluded from the best drama series category, but did nab well-deserved best actor and actress nominations for Kyle Chandler (as Dillon High football coach Eric Taylor) and Connie Britton (as his wife and Dillon High principal Tami Taylor). The series had a total of four nominations after receiving just one last year.
Glee
racked up four acting nominations, for Matthew Morrison and Lea Michele in the lead categories and Jane Lynch and Chris Colfer for supporting performances. Neil Patrick Harris, Kristin Chenoweth and Mike O'Malley also received nods for their guest star appearances on
Glee
.
Modern Family
was shut out of the lead actor and actress field, but got five nominations in the supporting categories for Ty Burrell, Jesse Tyler Ferguson, Eric Stonestreet, Julie Bowen and Sofia Vergara.
HBO's 101 total nominations easily topped all networks, followed by ABC with 63 nods, (CBS (57), NBC (48), Fox (47), PBS (32), AMC (26), Showtime (23), Discovery Channel (14) and Lifetime (11). All but two of AMC's nominations were for either
Mad Men
or
Breaking Bad
. The CW network was shut out.
The 62nd annual prime-time Emmys will be televised on Sunday, August 29th on NBC, with Jimmy Fallon hosting. A complete list of nominees can be
found here
.
OTHER EMMY HIGHLIGHTS/LOWLIGHTS
***
HBO's New Orleans-set
Treme
, from the team behind
The Wire
, received a scant two nominations. That perhaps should come as no surprise, since
The Wire
got skunked every year by the Academy of Television Arts & Sciences. Also left in the cold: FX's
Justified
(one nomination) and ABC's
The Middle
and NBC's
Parenthood
(no nominations).
***
Betty White, the oldest host ever on
Saturday Night Live
, nabbed a nomination for her performance in the "Outstanding Guest Actress In a Comedy Series" category. Oddly enough, she's joined in that field by fellow
SNL
guest host Tina Fey and Elaine Stritch for her one-shot performance on Fey's
30 Rock
. Both Stritch and White have had amazing career resurgences this year at the respective ages of 85 and 88. White has four Emmy wins to date, and Stritch, three.
***
Big-name nominees with no wins so far include Kathy Bates (0 for 7 with a nomination for Syfy's
Alice
); Steve Carell (0 for 6 with a nomination for
The Office
); Jon Hamm (0 for 4 with a nomination for
Mad Men
); Neil Patrick Harris (0 for 3 with nominations for
Glee
and CBS'
How I Met Your Mother
); Hugh Laurie (0 for 5 with a nomination for Fox's
House
); Ann-Margret (0 for 5 with a nomination for NBC's
Law & Order: Special Victims Unit
); Sir Ian McKellen (0 for 4 with a nomination for AMC's
The Prisoner
); Susan Sarandon (0 for 3 with a nomination for
You Don't Know Jack
); Kyra Sedgwick (0 for 4 with a nomination for TNT's
The Closer
).
***
This year's most-nominated contender is Larry David, whose grand total stands at 21 with two wins in the bank. Right behind him is Lily Tomlin, who has 20 nods and five wins so far.