A&E's Duck Dynasty hopes to quack you up
03/19/12 11:13 AM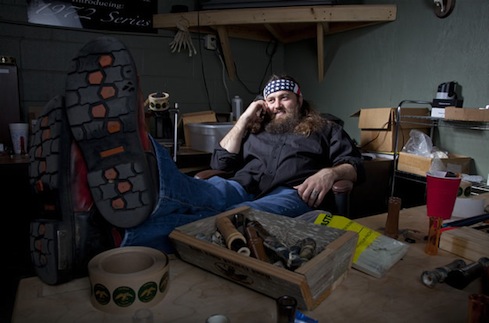 Master of his domain Willie Robertson of Duck Dynasty. A&E photo
Premiering:
Wednesday, March 21st at 9 p.m. (central) on A&E
Starring:
Willie, Korie, Phil, Jase and Si Robertson, plus "Miss Kay"
Produced by:
Deirdre Gurney, Scott Gurney, Joe Weinstock
By ED BARK
Back when it aspired to something other than "Real Life. Drama" (as its slogan goes), A&E gobbled up nine Emmy nominations for 1999's
Dash and Lilly
and then won a Peabody Award the following year for
The Crossing
.
But there's no accounting for taste these days. Which leads us to the network's
Duck Dynasty
, a hillbilly stew premiering Wednesday after double doses of
Storage Wars
and
Dog the Bounty Hunter
. Try to hang in there, Western Civ. All of them thar blows to the head only build character and steel you for the long groggy march toward inevitable extinction.
Duck Dynasty
is flimsily built around the no doubt embellished antics of the backwoods-bred Robertsons, who have built a multi-million dollar business out of artificial quacks. They all gather together on a Bayou-style Ponderosa, where scraggly beards may not be the law, but you'd best not be without one. Womenfolk excepted -- for now.
The series airs in half-hour chunks, and only the first one was available for review. Alas, it doesn't include any up-close adventures with patriarch Phil Robertson's body odor. Publicity materials say that the former Louisiana Tech University quarterback -- and inventor of the ingenious Duck Commander duck call -- "follows a strict routine of no showering, no shaving, and no clothes washing of any kind" during duck-hunting season, which lasts for 10 weeks. This supposedly ensures a "bountiful haul." And presumably no relations with his wife, "Miss Kay."
Episode 1 instead shows philosophical Phil slicing up live frogs while giving one of his "passel" of grandsons the lowdown on what kind of woman he should marry. She needs to know how to cook, carry a bible and love bullfrogs, he tells the kid, who isn't yet old enough to vote for Rick Santorum.
"Now
there's
a woman. See what I'm sayin'," Grandpappy adds. And don't worry too much about looks, 'cause "it's hard to get a pretty one to cook and carry a bible anymore."
Duck Dynasty
does have a purdy one, though. She's Korie Robertson, the all-business but comparatively genteel wife and business partner of Duck Commander CEO Willie Robertson. Both of them know it can be durned tough getting everyone on the same page when it comes to churning out those handmade duck calls and decoys, all made from genuine swamp wood.
In the opening half-hour, Jase Robertson is out cat-fishing while Phil and brother Si are trying to shoot beavers.
"They're like the Viet Cong," says Phil. "They only move at night, and they live in holes in the ground." And since they're voracious timber eaters, "the only good beaver is one with a bullet in his head," adds Si. Or maybe I've got them interchanged. It's tough to tell behind those lookalike foot-long beards.
Later on, a coupla Robertsons try Willie's patience by flooding a loading dock and turning it into a "research pond" where real-life duck quacks can be measured against the manufactured ones. It's enough to make Willie bolt from the taping of an ad hoc cooking DVD starring family matriarch Miss Kay, who was 16 when she married Phil.
"Everybody here is doing nothing!" Willie rages. "And I can't fire you because you're kin to me!"
He then kicks something before calming down at the nightly family dinner, where all of the Robertsons set down for a long spell of good-natured funnin' and palaverin'.
Duck Dynasty
does turn out to have more substance than Lifetime's aggressively empty-headed
Roseanne's Nuts
, which briefly afflicted home screens last summer. But it's pretty much all the same. "Drama" is manufactured and then acted out by the latest collection of human oddities.
Viewers in a sense are going to another carnival freak show. Although if this keeps up, smaller and small percentages of the American populace will be educated enough to feel "superior" to the likes of rough-hewn Phil, lay-about Si or cocksure Jase, who terms himself a "frog's nightmare. I was just born that way."
On the other hand, maybe A&E's revamped Wednesday night lineup isn't a whole lot different from watching consecutive double-runs of
Gilligan's Island, The Beverly Hillbillies
and
Green Acres
.
Each generation has its own forms of mindless entertainment. It's just that
Duck Dynasty
and its ilk are advertised as real rather than make-believe. And we haven't even been introduced to Phil's show-stopping B.O. yet.
GRADE:
C-minus