Pick three: Idol's second performance round tougher to figure than first
02/26/09 09:22 AM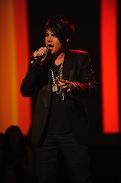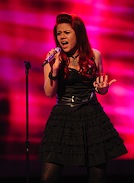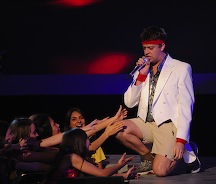 Singing for survival: Adam Lambert, Allison Iraheta, Nick Mitchell
By ED BARK
Correctly picking last week's three
American Idol
survivors, which unclebarky.com did, was easier than figuring which trio will emerge from Wednesday's dozen.
Going first is hardly ever beneficial, so 17-year-old Jasmine Murray likely will have to wait for the judges' climactic "wild card" choices to perhaps sneak in. She deserved a better seed, though.
Tattooed Megan Joy Corkrey is a judges' favorite, but I'm gonna leave her out. The same for Kris Allen, who also got mostly positive reviews, although not raves.
Also notable: This was the first time in a long time -- if ever -- that Simon Cowell didn't get the last say. Instead they pretty much rotated among the four judges. Don't know if I like that.
OK, here are my three picks to join Danny Gokey, Alexis Grace and Michael Sarver in the show's final 12.
1. Adam Lambert
-- He looks like a lock, and
Idol
gave him a likely calculated extra push by slotting him last. Gokey got that coveted spot last week, and likewise scored big with judges.
2. Allison Iraheta
-- She's only 16, and very reminiscent in looks and pipes to inaugural
Idol
winner Kelly Clarkson. Flaming red hair also registers.
3. Nick Mitchell/"Norman Gentle"
-- Oddly enough,
Idol
really could use the further presence of this spangled blend of Liberace, Jerry Lewis and Elton John. He performed as Gentle Wednesday, and has no real chance to go all the way. Still, his entertainment value keeps humming along, and Nick/Norman benefits from less exposure under the new format. In other words, he's not cringe-worthy quite yet. Viewers also know that if they don't vote him in, he's finished. A wild card reprieve definitely isn't in the cards.