Already a life-saver, Saving Africa's Witch Children makes U.S. debut on HBO2
05/26/10 09:25 AM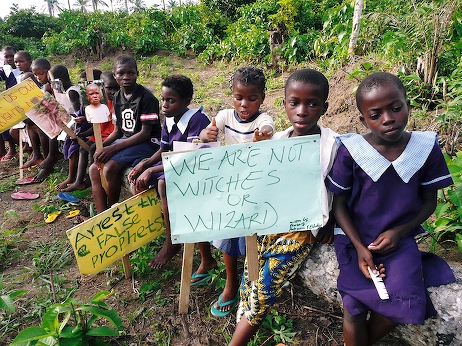 By ED BARK
Inhumanity and exploitation in the name of religion are part of our times, all times.
And the blood should boil all the more when children are made victims.
Saving Africa's Witch Children
, a short but powerful 50-minute documentary premiering
Wednesday, May 26th at 7 p.m. (central)
on HBO2, depicts a strain of Pentecostalism gone wild in Southeastern Nigeria's Akwa Ibom state. Acting on religious edicts, thousands of kids deemed witches have been killed, tortured, abandoned or basically held captive for ransom.
It had been a wholly unholy situation until British filmmakers Mags Gavan and Joost van der Valk came calling with their cameras and a zeal to effect social change via their RedRebel Films.
Saving Africa's Witch Children
, first shown overseas in November 2008, had a far-reaching impact according to the film's printed epilogue. Without ruining its impact, let's just say that the grinning and thoroughly mercenary "Bishop" Sunday Ulup-Aya is no longer in business.
He's seen early in the film, bragging that he has killed "up to 110 people" designated as witches. Children, such as a little boy shown on camera, are made to drink Sunday's cup of exorcism, a combination of alcohol, mercury and his own blood. Payments for his services are exorbitant -- up to a year's salary for many parents. Sunday holds his "witches" hostage until full payment is made.
Also caught on camera, during a contentious and clandestinely filmed interview, is wealthy "Prophetess" Helen Ukpabio of the Liberty Gospel Church. Her graphic and highly influential film, "End of the Wicked," is cited as the principal cause for a huge upsurge in witchcraft prosecution. Ukpabio angrily orders Gavan to "be careful, mind your ways" when told of children being left dead on roadsides after their communities ostracized them as witches.
"A white man or white woman cannot come into my country and say nonsense against me and mess up the whole situation and present something from a topic or theme he or she doesn't even know," Ukpabio further bellows before dismissing her interviewer.
Other avenging angels include Sam Itauma, director of the Child Rights and Rehabilitation Network, and Britisher Gary Foxcroft, founder of Stepping Stones Nigeria. Both men help operate shelters that take in children who have been branded murderous, flesh-eating, misery-causing witches. Some have been gruesomely maimed. Others, such as sad-eyed, five-year-old Mary, are simply left to fend for themselves.
In Mary's case, her mother is dead, her father has moved away and her relatives want nothing to do with her. So she's taken back to the shelter, arriving in clean clothes and clutching a bottle of water and fresh food.
Nigeria eventually passed a Child's Rights Act, with Gov. Godswill Akpabio pledging further reform after meeting with a group of ostracized children in the company of Foxcroft and Itauma. But there are still pockets of strong resistance.
Saving Africa's Witch Children
obviously isn't a walk in the park. And it's easy to dismiss Akwa Ibom state as another far-off enclave of "primitive" people whose behavior is not our concern.
Tell that to the children, though. And thank God -- the merciful, all-kind version -- that this film got made. Short but bracingly on point, it's already had an indispensable impact.
GRADE:
A