The Bachelor recycles another North Texan for 14th go-around
10/14/09 03:36 PM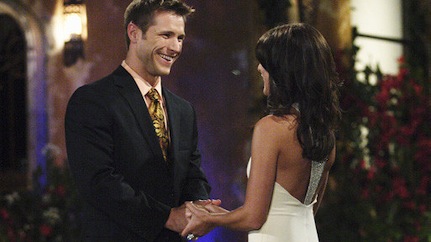 Jake Pavelka with Jillian Harris, who jilted him. ABC photo
By ED BARK
After crash-landing last season with Bachelorette Jillian Harris, Dallas pilot Jake Pavelka gets another flight in January as the star of ABC's
The Bachelor: Wings of Love
.
The 31-year-old, Denton-raised flyboy will sort from among another batch of 25 lovelies in search of the "love" that eluded him when Harris deluded him. After that happened, "millions of women have had their 'Top Gun' fantasies about him," according to ABC publicity materials.
This will be the 14th go-around for the ABC kiss-and-tell, which dawned in 2002 with Alex Michel in the driver's seat. His parents lived in Dallas at the time, and Michel took the show's three finalists home to meet mom and pop. He eventually settled on Amanda Marsh, rejecting future Bachelorette star Trista Rehn, still the only contestant to actually marry a suitor -- firefighter Ryan Sutter.
Former Dallas Cowboys cheerleader Melissa Rycroft also became a star player on
The Bachelor
after being selected and then rejected earlier this year by a lug named Jason Mesnick. She immediately bounced back to become a finalist on
Dancing with the Stars
and now a correspondent for
Good Morning America
.
Austin's also had its moments on the show. In 2007, bar owner Brad Womack made
Bachelor
history by rejecting both of his hand-picked finalists in the climactic rose ceremony. Keep Austin Weird.
Big Jake, a former University of North Texas student, has been taking flying lessons since age 12. Now he's looking to be more grounded with a "woman who is intelligent, confident, energetic and spontaneous," ABC insists.
Chris Harrison has hosted
Bachelor
and
Bachelorette
from the start, and continues to do so. Guess where he's originally from? Why, Dallas, of course.