CBS cuts $#*! My Dad Says, adds Criminal Minds spinoff as part of midseason overhaul
12/22/10 08:40 AM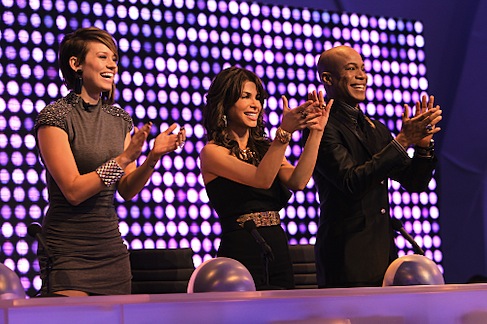 Paula Abdul and fellow Dance masters Kimberly Wyatt, Travis Payne.
CBS photo
By ED BARK
No. 1-rated CBS is doing less deck-shuffling than its rivals, but will still make some significant changes in the coming year.
The network announced Tuesday night that four new series will be joining its new mix, although Paula Abdul's previously announced
Live to Dance
basically is a place-holder for
Survivor
as Wednesday night's lead-off hitter.
The notable eviction is William Shatner's
$#*! My Dad Says
, which had been nestled behind
The Big Bang Theory
on Thursdays. The
$#*!
will last hit the fan on Feb. 17th. On the following Thursday, its replacement is
Rules of Engagement
, which has been airing on Mondays between
How I Met Your Mother
and
Two and a Half Men
.
CBS says that
Dad Says
"will have completed its on-air order for the season" when it leaves the network. That leaves the door open a crack for renewal next season. But in truth CBS has never been entirely comfortable with either the title of the show or its fall-off among advertiser-coveted 18-to-49-year-olds.
Big Bang
currently ranks seventh in that key demographic with an average of 9.8 million 18-to-49-year-olds per episode, with
Dad Says
then falling to 31st with 7.6 million viewers.
Starting Feb. 21st,
Rules of Engagement
will be replaced on Mondays by the new comedy
Mad Love
. Jason Biggs of
American Pie
fame heads the cast in this saga about a "quartet of New Yorkers, two of whom are falling in love while the other two despise each other."
CBS also is adding
Criminal Minds: Suspect Behavior
at 9 p.m. (central) Wednesdays, beginning Feb. 16th. Forest Whitaker and Janeane Garafolo head the network's latest crime-solving team.
Moving from Wednesdays to Fridays is
The Defenders
, starting on Feb. 4th. In the interim, Tom Selleck's
Blue Bloods
cop drama gets a four-week run in
The Defenders'
9 p.m. Wednesday slot (from Jan. 19th to Feb. 9th). It will then move back to its previous home -- Fridays at 9 p.m. Out of luck on Fridays is
Medium
, which will be supplanted by
Defenders
in the 7 p.m. leadoff spot.
Abdul's
Live to Dance
launches on Tuesday, Jan. 4th with a two-hour edition before moving to its regular Wednesday, 7 p.m. spot on the following night. On Jan. 19th, it will be pitted directly against the Season 10 premiere of Fox's
American Idol
.
Dance
so far is scheduled for just a six-week run, with
Survivor: Redemption Island
starting up on Wednesday, Feb. 16th at 7 p.m.
The fourth new CBS series,
Chaos
, is set for a Friday, April 1st premiere in that night's lead-off slot. There were strong indications earlier that it would be filming in Dallas, but the network opted for Canada instead. Freddy Rodriguez (
Six Feet Under
) and Eric Close (
Without A Trace
) star in what CBS describes as a "comedic drama about a group of rogue CIA spies in the Office of Disruptive Services who combat threats to national security amidst bureaucratic gridlock, rampant incompetence and political infighting."
Sounds just like Congress, but CBS isn't about to break away from its tried-and-true crime and punishment format. All 12 of its scripted one-hour series are in that genre.