HBO's Reporter documentary strives to stir hearts by personalizing the war-torn Congo
02/18/10 12:34 PM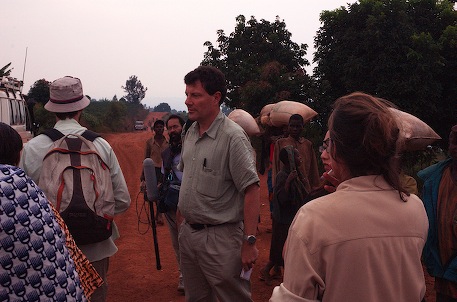 New York Times columnist Nicholas Kristof on appointed rounds.
By ED BARK
Premiering opposite the men's figuring skating final from Vancouver, HBO's Congo-set
Reporter
is virtually guaranteed to be seen by next to no one -- at least on opening night.
But there will be many more opportunities to eat your broccoli -- which you should.
Reporter
, with
New York Times
columnist Nicholas Kristof providing its heartbeat, will be repeated throughout this month and next while also being readily available via On Demand to HBO subscribers.
The 90-minute documentary film (
Thursday, Feb. 18th, 8:30 p.m. central
), executive-produced by Ben Affleck and directed/narrated by Eric Daniel Metzgar, is up-front about both its intentions and the steep curve it faces in getting people to spend time with the ongoing genocide in the so-called Democratic Republic of the Congo.
As author Samantha Power (
A Problem From Hell
) notes near the start, "Who is going to put in their search engine in the morning 'genocide' or 'atrocity' or 'concentration camp' or 'rape camp?' "
Kristof, an Op-Ed columnist for the
Times
since 2001, has won a pair of Pulitzer Prizes for his dogged coverage of humanitarian crises in distant places. Over the years he has learned to search for the crystallizing human interest story that might get people to pay attention and try to help.
Studies have shown that personalizing a tragedy is the optimum way to go. Kristof has never forgotten, for instance, the plight of a woman in a malaria-infested village who had three children and just one mosquito net. Each night she had to choose which child to protect.
Filmmaker Metzgar expresses his reservations in this respect. "So many terrible stories," he tells viewers. "In my eyes, every one warranted a column. But none of them seemed quite desperate enough for Nick."
There's a little too much extolling of "Nick" in the early going, with actress/activist Mia Farrow and CNN analyst Jeffrey Toobin among those singing his praises. One also can question Kristof's decision to make an appearance on Comedy Central's
The Colbert Report
, where the host makes him the butt of jokes while doing his usual play-acting as a pompous, right-wing truth-teller.
Does the end justify the means in this case? Not really, but Metzgar is impressed. Only Colbert could "so nakedly verbalize our indifference to the plight of distant strangers," he pronounces.
Reporter
gets much stronger as it goes along, though. Kristof, accompanied by a medical student and a teacher, finds the hard-core suffering he's looking for in the form of 41-year-old Yohanita, who is disabled with "ulcerating bedsores." Her destitute family can't afford hospital care, but Kristof and the medical student step in with both money and assurances that the woman otherwise will surely die.
The film also has a
Heart of Darkness
aspect to it, with a visit to the remote camp of Gen. Laurent Nkunda saved until the final act.
"I'm not a warlord. I'm a liberator," says Nkunda, who also turns out to be a trim, handsome schmoozer with a telegenic smile and a professed allegiance to Christianity. Dinner is served after Kristof interviews him. But a postscript tells us that Nkunda almost assuredly is a charlatan who nonetheless puts on an outwardly convincing show.
The Tutsi chieftain even lets Kristof interview some of his militia's POWs. One of them is a young boy who tells him, "If it's a war, you can rape them." He's referring to the many innocent villagers who have been both brutalized and murdered as pawns in the ongoing power struggles among 22 different militias by Kristof's count.
Journalism of this order of course is expensive, off-putting to many and ill-suited to the chattering, often empty-headed "blogosphere" or the various pontificators currently dominating prime-time hours on Fox New Channel and MSNBC.
Back in his
Times
office at film's end, Kristof says he's likely fighting a losing battle. "For right now, I'm really an agnostic as to where journalism is going to go," he says.
The final image is meant to be hopeful. A commuter is reading a Kristof column headlined "Africa's World War." Or at least pretending to while the cameras roll.
GRADE:
B+