CBS switches anchor chairs on what's been its early morning Titanic
11/30/10 10:52 AM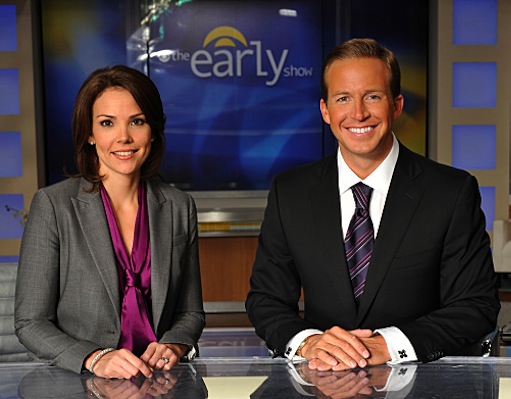 Incoming Early Show anchors Erica Hill, Chris Wagge CBS photo
By ED BARK
CBS' terminally struggling weekday editions of
The Early Show
are getting a "new cast," as the network puts it.
Out are anchors Harry Smith and Maggie Rodriguez, plus weatherman Dave Price. In are Erica Hill and Chris Wragge, who have been co-anchoring
The Saturday Early Show
since 2008. They'll be joined by temperature taker Marysol Castro and news reader Jeff Glor.
Executive producer David Friedman, ever hopeful, says the new team is "the perfect combination of intelligence and personality for morning television, and I'm excited to give viewers the opportunity to welcome them into their homes each morning."
Smith, who is married to former WFAA8 sports reporter Andrea Joyce, will reboot as the primary substitute anchor for
The CBS Evening News with Katie Couric, Face the Nation
and
Sunday Morning
. He'll also report for all CBS News programs, the network said Tuesday.
"Prominent and ongoing roles" are being discussed for both Rodriguez and Price, according to CBS.
Another
Early Show
personality, Julie Chen, recently migrated to CBS' new daytime entry,
The Talk
. She is the wife of CBS president and CEO Leslie Moonves, which pretty makes her bullet-proof.
The Early Show
has been a perennial and distant third among network waker uppers, trailing NBC's longtime front-running
Today
and ABC's
Good Morning America
, which was revamped a year ago when George Stephanopoulos joined the program after Diane Sawyer left to anchor ABC's
World News
.
The new
Early Show
team will start on Monday, Jan. 3rd.