Dobbs leaves CNN behind (updated)
11/12/09 08:10 AM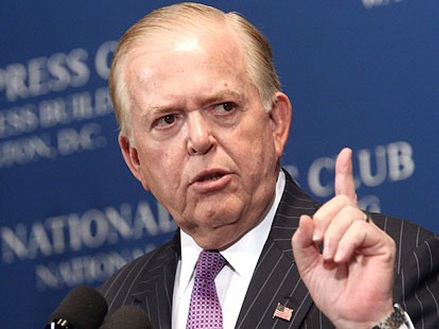 By ED BARK
Hot-wired
Lou Dobbs
has left the CNN building, presumably enroute to Fox News at some point.
He announced his departure on Wednesday's edition of
Lou Dobbs Tonight
, telling viewers it was his last broadcast for the granddaddy of cable news networks.
Known best for his unbridled criticisms of U.S. immigration policy -- which he believes is too lax -- Dobbs said that "some leaders in media, politics and business have been urging me to go beyond my role here at CNN and to engage in constructive problem-solving, as well as to contribute positively to a better understanding of the great issues of our day. And to continue to do so in the most honest and direct language possible."
Dobbs had been reprimanded by his CNN bosses, principally president Jon Klein, for his advocacy positions on a network that is still striving to carve out neutral territory between the right-leaning Fox News Channel and left-leaning MSNBC.
Dobbs, 64, said he had "talked extensively" with Klein and "as a result of those talks, Jon and I have agreed to a release from my contract that will enable me to pursue new opportunities . . . I assure you I will let you know when I set my course."
Klein, in an official statement released by CNN, called Dobbs a "valued founding member of the CNN family. For decades, Lou fearlessly and tirelessly pursued some of the most important and complex stories of our time, often well ahead of the pack. All of us will miss his appetite for big ideas, the megawatt smile and larger than life presence he brought to our newsroom . . . With characteristic forthrightness, Lou has now decided to carry the banner of advocacy journalism elsewhere."
His best venue for that, other than his ongoing syndicated radio program, appears to be Fox News, where former CNNers Glenn Beck and Greta Van Susteren have prospered with daily programs.
Lou Dobbs Tonight
aired at 6 p.m. (central) on CNN. The network announced Thursday that incumbent John King will take over his slot while continuing to host his
State of the Union
Sunday program until sometime early next year.
"The program will reflect what CNN is all about -- straight facts from our anchors and the widest range of opinions from across the political spectrum," Klein said in a statement.