Dave vs. Conan: It's all in the spin
06/18/09 01:22 PM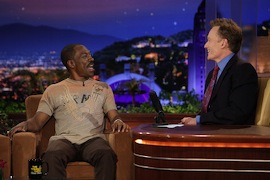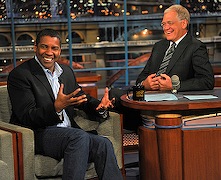 Guests Eddie Murphy and Denzel Washington jaw with Conan, Dave.
By ED BARK
"Conan Takes Week Two In Every Key Ratings Category," boasts NBC.
"
Late Show with David Letterman
In Closest Competitive Position to
The Tonight Show
In Viewers Since December 2005," brags CBS.
Oh how we love the ratings games networks play. Week 2 of Conan vs. Dave is in the books, with NBC pounding away about their guy's appeal among advertiser-favored younger viewers while CBS figures that every American counts in its equations.
The national Nielsens say that Letterman averaged 3.669 million viewers in the week of June 8-12, finishing just a sliver behind O'Brien's 3.771 million viewers. That's the closest Dave's been since the week ending Dec. 2, 2005, says CBS, noting that Oprah Winfrey made her first
Late Show
appearance in that week.
NBC counters by touting Conan's blowouts of Dave among 18-to-49-year-olds and 18-to-34-year-olds, with Peacock exec Rick Ludwin noting that "this business is all about delivering the key demographic groups."
Among 18-to-49-year-olds, Conan averaged 2.013 million to Dave's 1.126 million. And with 18-to-34-year-olds, it was a 1.040 million to 376,000 rout.
NBC knows how to rub it in. The network's release also mentions that the median age of O'Brien's audience in Week 2 was 45.7 compared to Letterman's fossil-esque 56.7.
The Peacock also brags that its guy won "despite the
controversy involving Gov. Sarah Palin
that has boosted interest in
Late Show
."
Round 3 of their ratings battle is in progress, with
Tonight
beating
Late Show
in "every significant demo" on Monday and Tuesday of this week, which began with
Letterman re-apologizing
to Palin for the sexual jokes about her daughter.
But CBS is more than happy to be in a virtual tie with NBC in the total viewer Nielsens.
By the way, ABC's
Nightline
is no piker in the total viewers race. It averaged 3.4 million in Week 2 to finish close behind both
Tonight
and
Late Show
. And
Nightline
ran second with 18-to-49-year-olds.