Pick just three: Idol dashes dreams, punishes posers in bigger doses this season
02/18/09 10:59 AM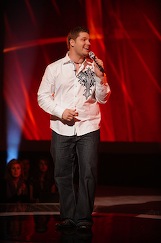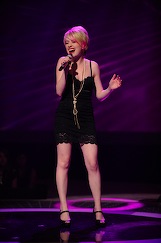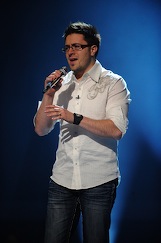 Tuesday night singers Michael Sarver, Alexis Grace, Danny Gokey
By ED BARK
American Idol
's new elimination format will drop all but three of Tuesday night's 12 singers via Season 8's first round of viewer voting.
That's a significant change from last season, when 24 semi-finalists were split by gender into groups of 12. Viewers then eliminated two from each group until one-by-one vote-offs began after the field was winnowed to 12.
Season 8 separates a larger field of 36 semi-finalists into three weeks of competition. Wednesday's results show will knock out three-quarters of the first dozen. So who will survive? Here are my picks:
1. Alexis Grace
-- wowed the judges and seems like a no-brainer
2. Danny Gokey
-- closed the show with another judge-pleasing performance, save for Simon Cowell's cool-ish reaction
3. Michael Sarver
-- Jasper, TX oil-rigger and married father of two is easy to like and has a good shot to squeeze through after a mixed reaction from judges.
Other male contenders from Tuesday's sing-off are the likewise likeable Anoop Desai and solid-singing Ricky Braddy. Drama queen Tatiana Nicole Del Toro, who unfortunately has a big voice, too, also has a chance to make it to the final dozen.
After two more 12-way competitions (on Feb. 26th and March 4th), judges will invite their favorite evictees back on March 5th for a "wild card" round in which they, not viewers, will pick three more contestants to round out a final 12.