NFL Full Contact rings false on truTV
02/08/10 01:38 PM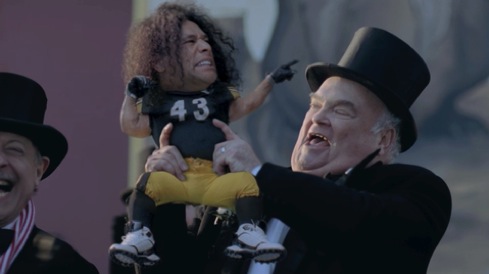 The Steelers' Troy Polamalu let himself be miniaturized in a "Six more weeks of football" Super Bowl ad for truTV's NFL Full Contact.
Premiering:
Monday, Feb. 8th at 9 p.m. (central) on truTV
Starring:
A collection of behind-the-scenes guys
Produced by:
Steve Sabol
By ED BARK
The NFL's ratings were up across-the-board on all of its client networks this past season. Little truTV, which can't afford the rights to any games, hopes to mop up with its six-part
NFL Full Contact
.
Premiering Monday, the series promises "unprecedented, exclusive access to what really goes on behind the scenes of professional football."
But an up-close look at last September's NFL Kickoff game -- and a preceding concert -- quickly proves to be a lot of ado about next to nothing. That is unless you're thrilled by stuff like veteran NFL photographer Bob Angelo eating his pre-game meal before taking the field for the Tennessee Titans-Pittsburgh Steelers faceoff.
Played in the Steel City, the game was preceded by an outdoor concert featuring Tim McGraw and The Black-Eyed Peas.
"It's a dream come true if you're a football fan. But it's a nightmare if you're throwing the party," a narrator contends before bossy guys like event producer Dan Parise start pissing, moaning and creating mountains out of ant hills.
Early in the inaugural one-hour episode, the reliably overwrought Parise spots an apparent McGraw impersonator and acts as though Osama Bin Laden has infiltrated the ad hoc "Pen" where a big throng of commoners will congregate to whoop and holler at the events onstage.
"Get his ass over here right now," Parise barks. Wow, what drama.
An eight-year-old child later is reported missing, prompting security head Sean Oates to spring into action. The kid is quickly found. Earlier, a "suspicious package" of course turns out to be nothing of concern. And so on. You can cut the tension with a plastic butter knife, even though the drum-beating theme music bridging commercial breaks implies that Armageddon is just around the corner.
Next Monday's second episode will feature the first regular season game at Cowboys Stadium in Arlington. In a preview of coming attractions, we hear the Dallas Cowboys Cheerleaders being told, "Final fluff and puff."
Full Contact
, judging from the opening episode, is puff for the NFL and fluff when it comes to what publicity materials tout as "the unpredictable challenges and conflicts that ensue in the high-stakes atmosphere that extends from the sidelines to the television truck to the locker room to the halftime show."
Yeah, right.
GRADE:
C-minus