Dancing with the Stars mixes in a Palin among 12 celebrities on hit show's 11th edition
08/31/10 07:03 AM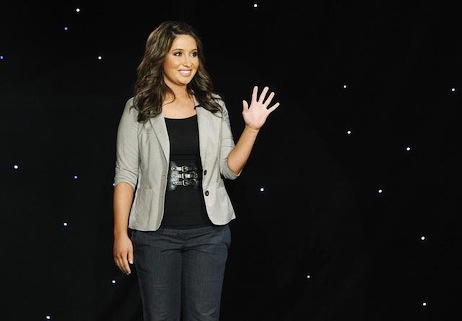 Bristol Palin makes her arrival on Monday night's live Dancing with the Stars reveal -- during breaks between Bachelor Pad. ABC photo
By ED BARK
A salable young Republican has entered ABC's mid-term elections, and she's definitely in it to win it.
They all say that. But what Bristol Palin says and does will be of more than passing interest during this fall's 11th edition of ABC's
Dancing with the Stars.


The 19-year-old daughter of former Alaska governor and vice presidential candidate Sarah Palin gamely smiled and waved during Monday night's two-pronged live announcement of female and male cast members between segments of
Bachelor Pad
. Rumors of her high-heeling it with the likes of Mike "The Situation" Sorrentino, David Hasselhoff and Florence Henderson have now come to pass. Meanwhile, Fox's
American Idol
still can't nail down its three -- or four -- judges.
Dancing
co-host Brooke Burke quickly popped some questions at Bristol, whose single motherhood and on-off-on-off relationship with fiance/ex-fiancee/fiance/ex-fiance Levi Johnston have put tongues in motion on a recurring basis.
"So Bristol, I have to ask you. What does your mom think about you being on this show?" Burke wondered.
"Um, she's excited for me. She knows that this is going to be hard work, but she's excited."
"And will we be seeing her in the ballroom?"
"Hopefully."
Bristol's pro partner hasn't been announced yet, but what if they stick her with preening Maksim Chmerkovskiy? More likely it'll be someone closer to her age, though. Perhaps cute little Derek Hough. I can't believe I'm writing this stuff. Whoops, made a rhyme.
"The Situation" currently makes his living as an abs-flexing, doltish party hound on MTV's
Jersey Shore
. Hasselhoff, who last year at this time was a judge on NBC's
America's Got Talent
, has also been known to crawl on the floor in an inebriated state. And who knows what iconic TV mom Henderson might say? She could be
Dancing
's new Cloris Leachman.
Here are the eight other celebrity contestants:
***
Singer Michael Bolton
***
Recently retired Super Bowl champion quarterback Kurt Warner
***
Singer/actress Brandy Norwood
***
Actress Jennifer Grey of
Dirty Dancing
fame
***
Comedian Margaret Cho
***
Kyle Massey, star of Disney Channel's
Cory in the House
***
Audrina Patridge from
The Hills
***
Ex-Los Angeles Laker Rick Fox
They''ll all re-gather on Sept. 20th for the two-hour season premiere of ABC's most popular show. That night's first dances will be the Viennese Waltz and the Cha Cha. Expect an uncommon amount of publicity -- and maybe even a get-out-the-vote effort -- from Fox News Channel. With the season finale already set for November 23rd, it might be possible to ride Bristol Palin all the way through election day.