TNT's women of distinction return in new seasons of The Closer and Saving Grace
07/14/08 06:54 AM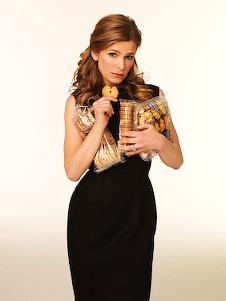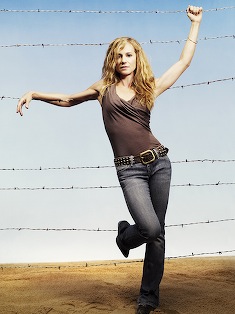 Kyra Sedgwick, Holly Hunter: hardbitten and harder bitten. TNT photos
By ED BARK
TNT's two ladies of the night hope to lure even more paying customers this summer.
Business is already booming for Kyra Sedgwick's
The Closer
, which drew close to 10 million viewers for last September's third season finale. That's a blockbuster in the advertiser-supported cable network universe.
Holly Hunter's
Saving Grace
averaged a respectable 4.7 million viewers in its first season. It's anything but Holly Golightly, with a heroine who's addicted to just about everything but heroin.
The dramas return in tandem on Monday, July 14th, starting with a very strong episode of
The Closer
at 8 p.m. (central). Reruns on CBS and Fox, plus two little-watched reality competitions on ABC and NBC might well make Sedgwick's hour the time slot winner by a ratings landslide.
The fourth season opener finds high-strung, sweets-craving deputy police chief Brenda Johnson (Sedgwick) and her charges in pursuit of a possible arsonist whose dirty work may be connected to a flash of Southern California wildfires. This unfortunately is a timely topic at the moment. But in this dramatization, the fires quickly are 95 percent contained.
Sedgwick's usual command performance is matched by the return engagement of Jason O'Mara as creepy, cocksure Bill Croelick. He's the suspected sadistic murderer/firestarter who keeps eluding conviction. Are his efforts to help Johnson genuine? Does he still have the hots for her? It's a terrific game of cat-and-mouse in an episode that also has a subplot involving Johnson's latter day, top secret cat.
The third season ended with Johnson and FBI agent Fritz Howard (Jon Tenney) finally moving in together. It's now six weeks later and much of their stuff remains in boxes. Their domestic ups and downs aren't quite as amusing as the writers apparently think they are. But it's still a howl every time Johnson twangs with mock sincerity, "Thank yew
so
much."
There's also a gratuitous yet highly impressive shot of the 42-year-old Sedgwick in nothing but her bra and panties. All this talk about Olympic swimmer Dara Torres being the shapeliest 40-plus-year-old woman on the planet perhaps needs to be reassessed a bit.
Over on
Saving Grace
, dissipated and borderline emaciated Oklahoma City police detective Grace Hanadarko (Hunter) ended last season with a gun pointed at the head of Patrick "Satan" Murphy (guest star Rene Auberjonois), the priest who repeatedly molested her as a child.
The second season premiere resumes that storyline after Grace first pursues a broad daylight carjacker who turns out to be very much wanted by the FBI. But a trusty police dog named Riley is the real hero, and he's now fighting for his life. This adds yet another demon to Grace's arsenal.
Meanwhile back home, Father Murphy is a captive audience for her very dark mood swings. At one point she drunkenly dances for him while he's tied to a chair. Hunter's performance is both a marvel and a gut-grinder. She inhabits this character with an almost surreal intensity.
Grace's earth "angel," the no-nonsense Earl (Leon Rippy), is back to further complicate her life. She remains resistant: "I hate you, Earl. I hate your angel guts."
The episode keeps twisting and turning toward more stomach knots while also find a light or two at the end of various dark tunnels.
Saving Grace
is far more complex and demanding than the comparatively straight-ahead crimesolving on
The Closer
. But it can be overbearing, too. Feeling Grace's ever-present pain is and continues to be very much an acquired taste.
All praise to TNT, though, for housing two dramas of distinction with women at their cores. Sedgwick and Hunter have a Monday night sisterhood that's unmatched anywhere else on the dial. It's their time to shine again, storm clouds and all.
GRADES
The Closer
-- A-minus
Saving Grace
-- B-plus