Syfy's Caprica ready to launch as 'frak'-fueled Battlestar Galactica prequel
01/22/10 11:01 AM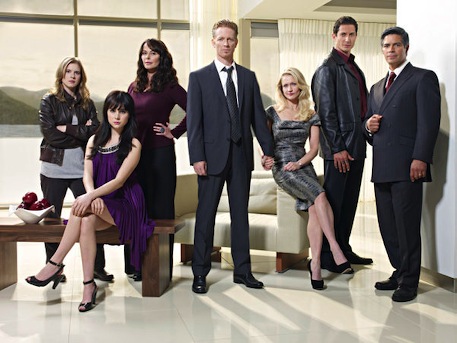 The inhabitants of planet Caprica are paced by Eric Stoltz (center.)
Premiering:
Friday, Jan. 22nd at 8 p.m. (central) on Syfy
Starring:
Eric Stoltz, Esai Morales, Paula Malcomson, Polly Walker, Magda Apanowicz, Allessandra Torresni, Sasha Roiz
Produced by:
Ronald D. Moore, David Eick, Jane Espenson
By ED BARK
Battlestar Galactica
acolytes presumably will rally around Syfy's
Caprica
, a seemingly sturdy prequel set "58 Years Before the Fall."
For the uninitiated, that's a reference to the distant future destruction of The 12 Colonies at the outset of
Galactica
. All were inhabited by humans, some of whom escaped under the direction of Commander William Adama (Edward James Olmos). They became intent on finding safe harbor on a planet known as Earth.
Caprica is one of those Colonies, and Adama is an impressionable, sad-eyed, somewhat neglected kid at this point. His father, attorney Joseph Adama (Esai Morales), is pretty blue, too. He's lost both his wife and his daughter to death. And representing mobsters from his original home planet of Tauron doesn't offer much in the way of respite.
Friday's two-hour premiere also makes ample room for wealthy technology genius Daniel Graystone (Eric Stoltz), whose wife, Amanda (Paula Malcomson), is having a particularly vexing time with their rebellious teen daughter, Zoe (Alessandra Torresani).
We first see Zoe at a very decadent "virtual nightclub," where young Caprica denizens gather to have group sex, fistfights and lots of liquor. Zoe, a techno-wizard in her own right, has invented a look-alike avatar who's always at the club. But in the real world, a terrorist bombing of a subway train soon erases the real Zoe and sends her father and authorities on a quest to find out what happened and whether she might be implicated. Or resurrected.
For the most part, Capricans bow to multiple gods while Zoe and some of her allies have had the temerity to worship a single supreme being who frowns on the planet's rampant materialism and immorality. Their sect is known as The Soldiers of the One.
All of this unfolds rather slowly but thickens to a nice texture by episode's end, when the first of the sinister Cylons emerges from Graystone's la-
bor
-atory. How this happens won't be revealed, even though many
Galactica
-ites probably already have seen as much. That's because Friday's launch has been available for months on the Internet and DVD.
Caprica
also is suitably sprinkled with the word "frak," which first entered fans' vocabulary with the
Galactica
yarn. Adama uses it on Graystone, for instance, telling him, "You're not right. You're out of your frakkin' mind." Or to put it another way, Graystone is a borderline Dr. Frakkin'-stein. Sorry.
There's probably enough here to keep
Galactica
's devoted fan base largely intact.
Caprica
so far doesn't have the interplanetary scope of its ancestor. But air travel can always be arranged once this spinoff takes flight.
GRADE:
B