Idol marked for Jan. 12th return, Glee takes winter off in new midseason Fox lineup
11/24/09 05:28 PM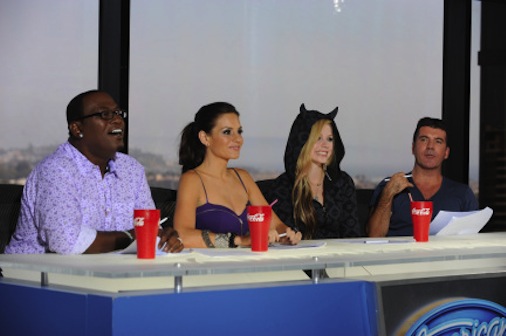 Usual suspects and guest judge Avril Lavigne during audition round.
By ED BARK
No. 1 with advertiser-coveted 18-to-49-year-olds and poised to win its first November "sweeps" ever in that demographic, Fox starts piling on again in January with the annual return of
American Idol
and some notable schedule shifts.
Idol
's ninth season, with Ellen DeGeneres replacing Paula Abdul as the rating monster's fourth judge, will launch with a two-hour season premiere on Tuesday, Jan. 12th and continue on Wednesday with a one-hour edition.
Glee
will remain on Wednesdays at 8 p.m. (central) until a Dec. 9th "fall finale." After what Fox terms an "interlude," the series is scheduled to return on Tuesday, April 13th following
Idol
.
The network's January lineup also includes the previously announced 4-hour return of
24
(on Jan. 17-18) and two new series --
Our Little Genius
and
Human Target
. There's also the 450th episode of
The Simpsons
, on Jan. 10th.
Genius
, premiering post-
Idol
on Jan. 13th, is a reality series featuring "America's most gifted kids" being tested with questions fit for a genius.
Human Target
(Jan. 17th following post-season pro football), stars Mark Valley (
Fringe
) as a private contractor who will "stop at nothing" to protect his clients. The action series then moves to Wednesdays following
Idol
, with
Genius
shifting to Tuesdays following
Idol
. Perhaps you'll see a pattern here.
Idol
is the ultimate new series launch pad.
Lie to Me
, currently following
House
on Mondays, has received a "back order" of nine episodes and will return sometime in late spring, Fox says.
'Til Death
also is supposed to return "at a later date," but don't hold your breath.
Fridays will house the lame duck
Dollhouse
until Jan. 22nd, when it will have its final episode. Beginning Jan. 29th, Fox will fill Fridays with
House
repeats and
Kitchen Nightmares
. That leaves the freshman comedy
Brothers
out of the picture.
Let's see, what else?
Fox has another new series,
Past Life
, slotted for a Thursday, Feb. 11th premiere. Inspired by the book
The Reincarnationist
, it's billed as a thriller about detectives who investigate "the world of the unexplained."
Sons of Tucson
, a new, live-action family comedy about three brothers who hire a "charming, wayward schemer" to stand in for their jailed dad, will launch on Sunday, March 14th in a slot between
The Simpsons
and
Family Guy
. That will push
The Cleveland Show
to the end of the comedy pack, with
American Dad
scheduled to return later.