Huge joins the plus-size bandwagon on an already hot ABC Family channel
06/28/10 10:05 AM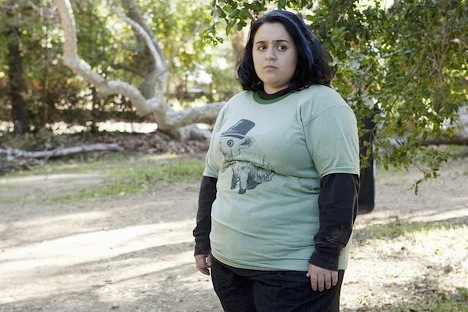 Not a happy camper. Nikki Blonsky as Will in Huge. ABC photo
Premiering:
Monday, June 28th at 8 p.m. (central) on ABC Family
Starring:
Nikki Blonsky, Gina Torres, Hayley Hasselhoff, Raven Goodwin, Ari Stidham, Zander Eckhouse, Stefan Van Ray, Harvey Guillen, Ashley Holliday
Produced by:
Winnie Holzman, Savannah Dooley, Kim Rozenfield
By ED BARK
Obesity is hot, although you really shouldn't try it at home.
The ABC Family channel is hotter, with
The Secret Life of the American Teenager
and the new
Pretty Little Liars
sizzling in the summertime ratings.
Now comes ABC Family's
Huge
, the saga of a weight loss camp whose top-heavy attendees are led by sour newcomer "Will" (Nikki Blonsky of
Hairspray
). She'll melt down in time. But for now she wants no part of re-shaping her body and losing a substantial portion of it.
"I'm down with my fat," she snaps at camp director Dorothy Rand (Gina Torres). "Me and my fat are like BFF."
Huge
will be paired with
Secret Life
on Monday nights in times when various networks continue to weigh in on plus-size people.
ABC recently aired
Jamie Oliver's Food Revolution
, which hunkered down in Huntington, W. VA to teach its reluctant residents how to pare the pounds. NBC has its long-running
The Biggest Loser
and the new spinoff,
Losing It With Jillian
. Oxygen currently is airing a new season of
Dance Your Ass Off
, the most-watched series in the network's history. Lifetime is in the midst of its second season of
Drop Dead Diva
, whose heroine packs plenty of pounds. And CBS' new fall lineup will include the sitcom
Mike & Molly
, whose title characters find love at an Overeater's Anonymous meeting.
First Lady Michelle Obama also is devoting a lot of attention to the escalating problem of childhood obesity. So it's basically easy as pie for TV to pick up the baton with shows that trim the fat.
Huge
gets off to a nice start, with Blansky's Will setting the table by not only refusing to conform but also running a black market operation in which fellow camp denizens pay hard cash for her smuggled-in sweets. But she also begins bonding with two sweeties, sensitive Becca (Raven Goodwin) and bespectacled, fellow alt rock lover Ian (Ari Stidham).
There's no real overall villain -- and that includes Will. But she does have an early nemesis in blonde, beautiful, chunky Amanda (David Hasselhoff's daughter, Hayley Hasselhoff), who quickly develops a crush on studly but good-hearted camp counselor George (Zander Eckhouse).
Winnie Holzman, whose
My So-Called Life
remains a landmark although short-lived ABC series, is the principal force behind
Huge
. She's joined by her daughter, Savannah Dooley, a rookie in the TV biz. Along with co-executive producer Kim Rozenfield (
American High
), they've fashioned a sensitive but entertaining series that's only the least bit cloying in its opening hour.
Mother and daughter also have created a role for veteran character actor Paul Dooley, who's married to Winnie Holzman and is Savannah's father. In
Huge
, he plays the gruff new cook, who greets campers with the admonition, "No seconds." During a diner scene late in the episode, he appears to have some serious issues with the aforementioned camp director, who's also his daughter.
Episode 1 also includes humiliation at an obstacle course, a brief catfight, an illness and Will's declaration that after three hours without any sugar, "I already feel like defacing public property."
That's a pretty sweet line in a series that looks like another ABC Family success story.
GRADE:
B+