Idol's final field swells to old-school baker's dozen
03/06/09 07:28 AM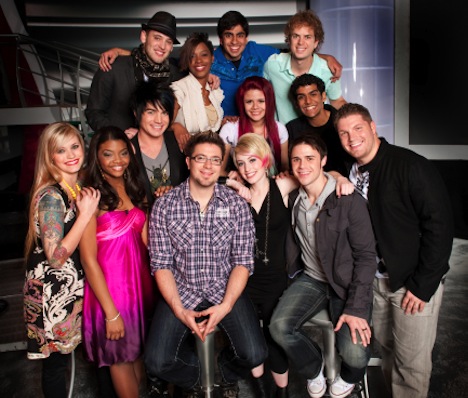 American Idol's first-ever Top 13 finalists include Thursday night "Wild Card" picks Matt Giraud, Anoop Desai (top from left), Megan Joy Corkrey and Jasmine Murray (bottom from left). Fox photo
By ED BARK
American Idol
's final field is set, after judges added four rather than the expected three contestants during Thursday night's so-called "Wild Card" round.
That makes it 13 finalists instead of the usual 12. It also presumably increases the number of
Idol
hours on Fox, which can't be blamed for wanting to make a few extra advertising bucks in sub-dire times for the television industry and just about any industry.
Idol
still reigns as prime-time's most-watched show, with an average audience of 26 million viewers per episode.
Your friendly neighborhood content provider
correctly picked three of the finalists
before any of them performed for
Idol
's four judges Thursday night. They are
Anoop Desai
, 22, of Chapel Hill, North Carolina;
Megan Joy Corkrey
, 23, of Sandy Utah and
Jasmine Murray
, 17, of Starkville Mississippi.
In an unprecedented move, the judges also resurrected
Matt Giraud
, 23, of Kalamazoo, Michigan.
Idol
has never had 13 finalists before. They'll now be picked off one by one in viewer voting that begins after Tuesday's performance show. On the following night's results show, both inaugural
Idol
champ Kelly Clarkson and Kanye West will perform.
Here are the nine other finalists:
Kris Allen
, 23, of Conway, Arkansas
Danny Gokey
, 28, of Milwaukee, Wisconsin
Alexis Grace
, 21, of Memphis, Tennessee
Allison Iraheta
, 16, of Downey, California
Adam Lambert
, 27, of San Diego, California
Scott MacIntyre
, 23, of Scottsdale, Arizona
Jorge Nunez
, 21, of Carolina, Puerto Rico
Lil Rounds
, 24, of Memphis, Tennessee
Michael Sarver
, 27, of Jasper, Texas