Atom TV segues from web to wee hour on Comedy Central
06/20/08 02:10 PM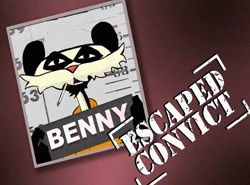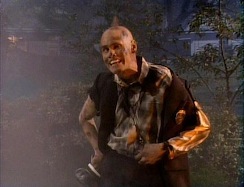 Atom TV's Benny, Escaped Convict and Jim Carrey's Fire Marshall Bill
By ED BARK
It's easy to envision an early Jim Carrey's flammable Fire Marshall Bill incubating on
Atom.com
before matriculating to 1990's first season of Fox's
In Living Color
.
But the Internet then wasn't anywhere near what it is today and will be tomorrow. Streaming video and Web-created comedy shorts hadn't yet dawned on television executives who now comb broadband land for future over-the-air content.
Comedy Central's
Atom TV
, premiering Monday, June 23rd -- technically Tuesday, June 24th -- gets a 1 a.m. (central time) slot to strut a collection of comedy shorts that originated on the now one decade old Web site.
Its best opening night effort, "Every 30 Seconds," depicts a hapless guy who's hit each half-minute by a moving vehicle of some sort. Increasingly bloodied and dazed, he then staggers on to his next collision. It would have been a perfect vehicle for a formative Carrey. But the films' director and star is Jeremy Corray, a contestant on last season's little-seen
On the Lot
reality competition created for Fox by Steven Spielberg and Mark Burnett.
The premise of
30 Seconds
is juvenile, but so were many of the sight gags hatched by the Marx Brothers. That didn't make them any less hilarious, of course. And these Atom.com bits get progressively funnier as the crashes add up.
Also worth a look is "Border Patrol," with three doofus amateur agents teaming to stop illegal immigrants. Former
Buffy, the Vampire
co-star Tom Lenk plays one of them. In earlier times this would stand as evidence of how far he's fallen. But now he can call himself a newborn comedy
artiste
if he likes.
The animated "Benny, Escaped Convict" is slightly amusing in its depiction of a cigarette-puffing skunk (or cat) offering lessons to live by. He'd get along great with Krusty the Clown.
"Shake In Your Face" is a rap featuring three dudes representing vanilla, chocolate and strawberry flavors. They throw shakes in the faces of passersby, which isn't exactly riotous.
There's also the more ambitious "Stickman Exodus," which brings to life the classroom doodles of a bored high schooler. The first one hinges on a game of "Hangman." It's not too bad in the execution. Hoo-hah.
Atom TV
will air weekly for now. Whatever its longterm future, comedy born and bred on the Internet will keep on keeping on.
Grade:
B-minus