Durbin's eviction leaves Idol limp
05/13/11 09:18 AM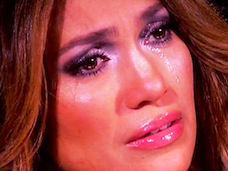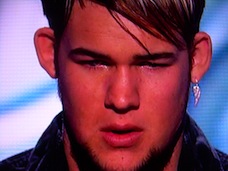 J Lo sobs as James Durbin gets the bad news. Photos: Ed Bark
By ED BARK
Well, they certainly can't accuse
American Idol
of rigging the vote.
Because if that were the case, what happened Thursday night would have been out of the question. The out-of-nowhere elimination of live wire James Durbin pretty much sucks the life out of whichever two hopefuls survive to face off in the final live performance show on Tuesday, May 24th. Way to go, text voters of America. You've screwed everything up.
It could have been the sonic wails of Durbin vs. the down-home country baritone of Scotty McCreery, who now seems like a prohibitive favorite to win it all. Their contrasting styles would have been the crowd-pleasing equivalent of Steven Tyler vs. George Strait.
Now we'll likely get McCreery vs. either Lauren Alaina or self-important Haley Reinhart, a previous weekly member of the Bottom 3 who improbably has avoided elimination despite a voice that simply doesn't measure up.
Five straight guys have been sacked since judge Jennifer Lopez urged viewers to get behind the remaining two girls. So a 6-2 male majority is now a 2-1 minority. The testosterone is all but drained but so is much of the juice.
Devoted D-FW fans of
Idol
can now look forward to a better show when the Top 11 perform in
Grand Prairie's Verizon Theatre
on Wednesday, July 20th as part of the annual
American Idol Live!
tour. Durbin will be there, as will fellow powerhouse castoffs Casey Abrams, Pia Toscano and Jacob Lusk. Tickets, which go on sale Friday, May 13th, are $45 and $65.
This has been a season of rejuvenation for
Idol
, which has withstood the departure of Simon Cowell and maintained its ratings strength with new judges Tyler and J Lo and a far more appealing group of singers than in recent seasons.
But now the homestretch is more of a pot-holed back road than an electric avenue.
Idol
's final faceoff already seems anti-climactic.