Pick three: Idol's third performance round yields two slam dunks, one shot in the dark
03/04/09 10:52 AM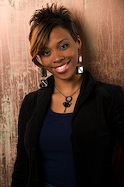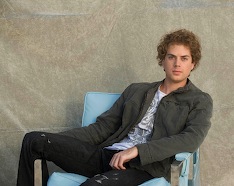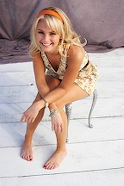 Idol hopefuls Lil Rounds, Scott MacIntyre and Kendall Beard
By ED BARK
Tuesday night's final 12-pronged
American Idol
sing-off produced two odds-on favorites and a crapshoot.
Lil Rounds and Scott MacIntyre seem like cinches to move on into the Top 12 finalists. But the third spot could go to Von Smith, Ju'not Joyner, Nathaniel Marshall, Felicia Barton, Jorge Nunez or Kendall Beard.
Smith got glowing reviews from judges, but drew the dreaded lead-off spot, which probably lessens his chances. Barton looked smashing, and is also the one who was retrieved by judges after initial Top 36 semi-finalist Joanna Pacitti got disqualified with the usual scant elaboration from Fox. She has a very good shot at advancing.
Joyner did a nice, but relatively subdued version of "Hey There, Delilah," which might make him a little forgettable. Marshall is the self-described drama queen, which makes him stand out in a crowd. And Nunez got to perform second-to-last, which usually keeps constants fresher in the memory of viewers. I'm going to go with Beard, though. Here are my three picks to move on:
1. Lil Rounds
-- She closed the show, which isn't coincidental. For three straight weeks,
Idol
calculatingly has saved one of the clear standout contestants for last. The previous two, Adam Buckman and Danny Gokey, already are in the Top 12. Rounds clearly belongs there as well.
2. Scott MacIntyre
-- He's
Idol
's first sightless contestant, which will get him some sympathy votes. But MacIntyre is no slouch as a vocalist, and could really shine when he's allowed to play his keyboards as a member of the show's Final 12. It also always help to get an imprimatur from judge Simon Cowell, who said Tuesday night, "I'm going to be amazed if you don't sail through."
3. Kendall Beard
-- The 24-year-old Lufkin, TX native is the only country girl left in this mix. And that's a pretty good thing to be in light of previous showings by
Idol
champ Carrie Underwood and perky Kellie Pickler. Her performance of Martina McBride's "This One's For the Girls" got less than rave reviews. But all of the judges noted her outgoing personality and overall cuteness. Cowell said Beard might not be shaved from the field because a lot of people "love this stuff," meaning country music. He obviously doesn't, but his point is well taken.