Letterman delivers, beating Leno across the board
11/04/10 01:22 PM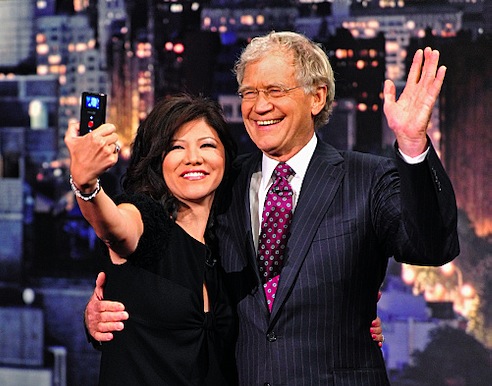 David Letterman recently made nice with the ultimate Good Wife -- CBS bossman Leslie Moonves' spouse, Julie Chen. CBS photo
By ED BARK
The panic button pushers at NBC may want to consider pushin' 'em when it comes to Jay Leno's
Tonight Show
.
In the latest ratings week (Oct. 25-29), CBS'
Late Show with David Letterman
beat Leno in the three major ratings food groups for the first time since the lantern-jawed comic reclaimed
Tonight
on March 1st of this year.
Letterman narrowly outdrew Leno in total viewers, 18-to-49-year-olds and 25-to-54-year-olds. And his follow up act, CBS'
Late Late Show with Craig Ferguson
beat NBC's
Late Night with Jimmy Fallon
in total viewers while the two shows tied in the two principal demographic measurements.
Letterman has been chipping away at Leno in recent months while previous
Tonight Show
host Conan O'Brien readies his 10 p.m. (central)
Conan
show for a Monday, Nov. 8th debut on TBS.
In the current
Rolling Stone cover story -- "Conan Unbound"
-- his wife, Liza Powel, says she "hated to see him in such a state of tension and unhappiness" after NBC reinstalled Leno as the
Tonight Show
host. She then adds, "The truth is,
The Tonight Show
was the definition of cultural relevance for decades. And all of a sudden, it's not. That's not Conan's fault. It's not anybody's fault. It just happened. And it's no longer a show he should be pinning his life's hopes on hosting."
That became even more clear on Thursday, when Comedy Central said its
Daily Show with Jon Stewart
is the first late night talker to beat both
Tonight
and
Late Show
for a full month's worth of 18-to-49-year-old ratings. The network humbly called it an "extraordinary achievement."
In October,
Daily Show
averaged 1.3 million viewers in this key, advertiser-craved age range while Letterman and Leno shared second with 1.2 million viewers apiece. Following behind were Comedy Central's
The Colbert Report
(900,000);
Late Night with Jimmy Fallon
(800,000);
Late Late Show with Craig Ferguson
(700,000); ABC's
Jimmy Kimmel Live
(also with 700,000); E!'s
Chelsea Lately
(650,000) and TBS'
The George Lopez Show
, which will be moving back to 11 p.m. (central) to accommodate O'Brien.
Comedy Central also noted that Stewart already ranks No. 1 among all late-nighters in 18-to-34-year-old viewers and has been tops in that demographic with men for five years and counting.