11/24/12 12:23 PM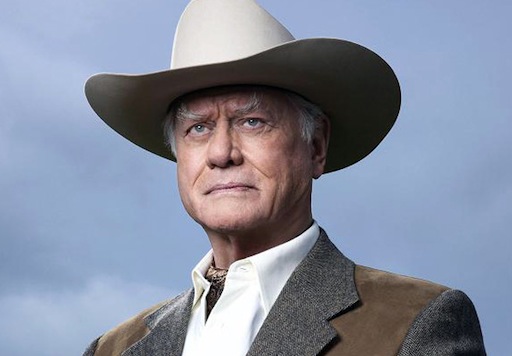 Larry Hagman lived to see his reincarnation of J.R. Ewing TNT photo
By ED BARK
@unclebarkycom
Few TV characters could match the on-screen wattage or off-screen eccentricities of Fort Worth-born, Weatherford-raised Larry Martin Hagman.
His black-hearted J.R. Ewing oft wore an off-white cowboy hat during his long reign as the world's most famous fictional evil-doer. In private life, Hagman regularly wore funny hats and flowing robes, observed Silent Sundays for a quarter-century and used a miniature fan to blow cigarette smoke back into the faces of anyone who dared to puff in his presence.
His death on the day after Thanksgiving, at the age of 81, put a shroud over Black Friday. He had survived for 17 years with a new liver before finally succumbing to complications from throat cancer. The end came in a Dallas hospital after Hagman spent his last fall filming Season 2 of TNT's
Dallas
reboot. So he died with his boots on, figuratively if not literally. And what a life he had after being born to fame as the son of Broadway legend Mary Martin.
My experiences with Hagman spanned more than 30 years, starting with the "Who Shot J.R.?" summer of 1980 and ending with the May 31st world premiere of the new
Dallas
at the Winspear Opera House in downtown Big D.
Hagman and his wife of 59 years, the former Maj Axelsson, threw a party for TV critics in their Malibu home during the height of "Who Shot J.R.?" frenzy. He was constantly surrounded by a gaggle of 20 or more writers striving to hear his every utterance amid the constant din. At one point, the Hagmans' beachfront Texas flag got a little too close to a bonfire and nearly went up in flames before someone pulled it out of harm's way.
"Wow, can you imagine what shit I'd be in if I burned the Texas flag?" Hagman cracked.
Later that night, the toilets overflowed, prompting next door neighbor Burgess Meredith to graciously offer assistance. "Who shot J.R.'s septic tank?" became the lead sentence in my subsequent dispatch.
A generation and a half later, in January of 2012, Hagman and old
Dallas
stalwarts Linda Gray and Patrick Duffy joined the TNT version's new cast members at the reboot's first national media event in Pasadena, Calif.
Josh Henderson, who plays J.R.'s suitably villainous son, John Ross, was asked what it was like to be slapped by "the iconic J.R." in an early episode.
"It was an honor, actually," he said. "And I asked for more takes. I told him, 'Just go ahead and hit me.' It's amazing to see them and their characters come back to life, and to be a part of it."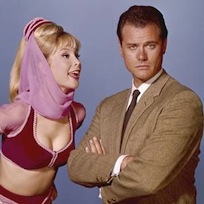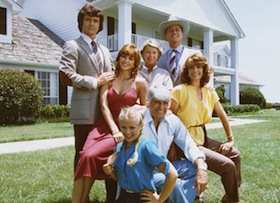 With Barbara Eden in Jeannie and original cast of Dallas
Hagman didn't lack for fame.
I Dream of Jeannie
put him on the map in 1965 as Capt. Tony Nelson. And then
Dallas
put him over the moon after premiering on April 2, 1978 and running all the way until May 3, 1991 on CBS.
But before both of those roles came the classic 1964 film
Fail-Safe
, in which Hagman had a significant part as a Russian interpreter. Most of his scenes were opposite Henry Fonda's president of the United States.
Hagman was excellent in the role. But a year later, he succumbed to
Jeannie
rather than attempt to further his reputation as a "serious" actor.
"I took whatever came along. I was glad to work. I had a family to support," Hagman said in a 2001 interview tied to his autobiography,
Hello Darlin': Tall (and Absolutely True) Tales About My Life
. "I wasn't managing my career and nobody else was either. But I've done pretty well. I'm probably the most famous actor in the world. I mean, really. And I've made a ton of money."
What he never received was an acting award of any real import. Two Emmy nominations as J.R. Ewing and another four Golden Globe nods added up to zero wins. And almost criminally, Hagman still hasn't been inducted into the Academy of Television Arts & Sciences Hall of Fame.
He always sloughed it all off, even if it really hurt at least a little -- or a lot.
"Was I?" he asked in that 2001 interview after being reminded of his two Emmy nominations for
Dallas
. "I don't watch awards shows. I'm so embarrassed to see the people sitting there waiting to win, picking their noses. And then they don't. That always makes me uncomfortable. To be nominated is one thing. That's an honor. But then you have to sit around waiting to be rejected while they make millions of dollars off of you. I don't like that . . . I don't like accolades. I can't handle 'em. I like the money in the bank. That's fine for me. That and the fun of makin' 'em."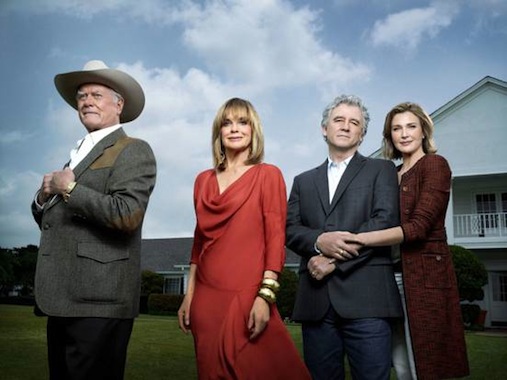 The original "Big Three" with newcomer Brenda Strong. TNT photo
A lot of actors owe a lot of their money to Hagman's salary holdout between the time J.R. got shot to when the world learned who plugged him on the night of Nov. 21, 1980.
Hagman felt he had the ultimate leverage. Others didn't, including then MTM Productions head Grant Tinker.
"He was shot. Maybe he shouldn't recover," Tinker told TV critics in a 1980 interview. "Whatever CBS is paying Larry Hagman, you could kill a disease with it. When somebody goes bananas on an MTM-produced show, we tend to excuse them . . . I think it would have been a celebrated opportunity to show that the inmates don't run the asylum."
But Hagman got what he wanted -- and in fact deserved. His salary jumped to a then unheard of $50,00 per episode of
Dallas
. It rose to $200,000 by the end of the road, which seems quaint in light of the $1 million per episode hauled in by each of the six cast members of
Friends
in Seasons 9 and 10. Hagman put that money truck in motion with his unwavering demands. And in his autobiography, he figures there at least should be an award for that.
"Nowadays I look at the salaries that are being paid to top TV actors . . . and I think, 'Good for them.' " Hagman wrote. "I also think they should give me a little nod for blazing the trail for episodic television."
The end of the original
Dallas
, after 13 seasons (seven of them in prime-time's Top 10), found Hagman ready to move on and be someone other than the broadly drawn J.R. Ewing.
"Once you're doing it, you don't think about being canceled," he said in a 1991 telephone interview. "CBS had an option to do another year and they just opted not to take it. There are a lot of shows on the air that have ratings even lower than we do. But
Dallas
got too expensive to make."
He didn't envision himself starring in another TV series, but in 1993 succumbed to NBC's short-lived
Staying Afloat
. Hagman also said he'd be game for "an
Airplane!
style of
Dallas
, because Patrick (Duffy) and I are very good at comedy. I kind of doubt we'd be able to work with each other again otherwise. After playing brothers for 14 years, that'd be kind of difficult."
But by 1996, Hagman, Duffy and fellow
Dallas
stalwarts Gray and Ken Kercheval were re-teaming for the two-hour CBS movie
Dallas: J.R. Returns
. During an interview on the set, Hagman noted that he'd soon be celebrating the six-month anniversary of his new liver.
"See those little white capsules?" he asked of the handful of pills he had to take for the rest of his life. "A hundred bucks apiece!"
The new J.R. emerged ruthless but newly sober.
"Everyone who watches this show is going to be vividly aware of Larry's personal history and his liver transplant," Duffy said. "So it's the appropriate thing to do, for Larry to say as J.R., ' Well, the doctor took me off the booze. He said it was killing me.' But Bobby still pours himself a bourbon. So it's not like we're going to all of a sudden beat the Prohibition drum."
Hagman, in the interview tied to his autobiographical book, said that drinking came natural to both his father, Ben Hagman ("a two-fisted, drinking, good old Texas boy") and his stepfather, Richard Halliday, whom he came to loathe.
"The anecdotes were not hard to come up with," Hagman said over diet sodas at a Dallas hotel. "But I found I was spending too much time on my stepfather. So I edited a lot of that stuff out. I didn't realize I resented him as much as I did. We both had alcohol problems but I was never obstreperous or cruel in any way. He was. That was his
modus operandi
. But everyone follows their own star, and his was not in sync with mine. So I forgive him now."
Hagman continued to drink on the set during filming of the original
Dallas
series. During what turned out to be its last day of on-location filming in Dallas -- in November 1988 -- he downed screwdrivers and white wine during a rather seamy scene at the Million Dollar Saloon. Near the end of the day's filming, a stripper named Nicole danced topless within close distance of an approving J.R.. Somehow five takes were required. "Nurse!" Hagman yelped.
The heavy drinking nearly killed him. But Hagman later credited LSD and marijuana as stabilizing forces. His first acid trip was courtesy of David Crosby.
"Your lose your ego," Hagman said in the 2001 interview. "It led me into having no fear of death, because you've been there, done that on LSD, and it ain't so bad. Matter of fact, it's wonderful."
As for pot, "why that stuff should be illegal is beyond me," he said. "It's so benign compared to alcohol. When you come right down to it, alcohol destroys your body and makes you do violent things. With grass you sit back and enjoy life. I don't smoke dope anymore. I'm in the 12-step program so I can't do any of that. Anyhow, that's my take on it. People say, 'Well, you shouldn't talk like that. They'll nail ya.' What do I care? I'm not carrying. I don't use. What're they gonna nail me for -- talking too much?"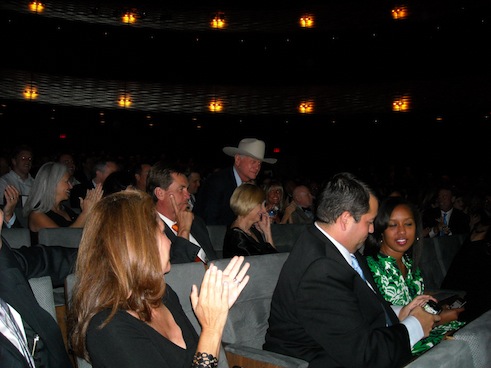 A face in the crowd at TNT's world premiere of Dallas. Photo: Ed Bark
A clean and sober Hagman made two
Dallas
TV movies and also participated in a 2004 cast reunion special. Recurring guest star roles in
Nip/Tuck
and
Desperate Housewives
likewise kept him busy, as did another shot at series stardom in the quickly canceled 1997 series
Orleans
, in which he played flamboyant Judge Luther Charbonnet.
During a 2004 appearance at Southfork Ranch to plug the Season 1 DVD release of
Dallas
, Hagman showed anew that he'd speak his mind whenever he pleased. During an interview deep in the heart of George W. Bush country, Hagman said the president had become a manifestation of J.R. Ewing's basic incompetence. So John Kerry was his man.
"You know, J.R. never made any money for his company," Hagman reasoned. "He was a bankrupt guy. And finally his wife ended up running what little was left."
For that reason, Hagman said he regularly wore a T-shirt with "J.R. for President" on the front and "Oops, he already is" on the back.
"Bush is ruining the country," Hagman said. "He's ruining the world, is what he's doing. I know a lot of people don't agree with me, but they have to look around and see what's happening. It's frightening."
Two years later, Hagman exuded buttery charm during a 2006 one-man show at Fort Worth's Casa Manana theater. Titled
Laugh With a Texas Legend
, it seemed to firmly plant
Dallas
in his past. While showing off a picture of his mother with Bing Crosby, Hagman noted that the late crooner's daughter, Mary Crosby, went on to plug him while playing the role of Kristin Shepard.
"Shot heard 'round the world -- and it all went in my pocket," Hagman said to applause.
His wife, Maj, later joined him onstage for a question-and-answer session. "The things that poor woman has had to put up with all these years," he said affectionately.
No one, including Hagman, envisioned any final bows as J.R. Ewing. But then along came that January 14, 2012 press conference, with Duffy particularly happy to be there.
The end of
Dallas
as a weekly series "was the heartbreak of my career because these are my two closest friends," he said of Hagman and Gray. "And I knew somewhere in my heart that we would never work together again because the three of us couldn't come into a scene without everybody saying, 'Oh, there's J.R., Sue Ellen and Bobby.' And that hurt me. I really wanted to work with them again. So this is the best thing that could happen in my career life."
"I got a tear in my eye," Hagman said. And he seemed to actually mean it.
The second season of TNT's
Dallas
is scheduled to begin on Jan. 28th. Fifteen episodes have been ordered, and Hagman reportedly worked in about six of them before his passing.
So at some point next year,
Dallas
will have to hold a funeral for Larry Hagman's indelible, show-stealing J.R. Ewing. And in truth, no one will have to act. Those tears will be all too real.
unclebarky@verizon.net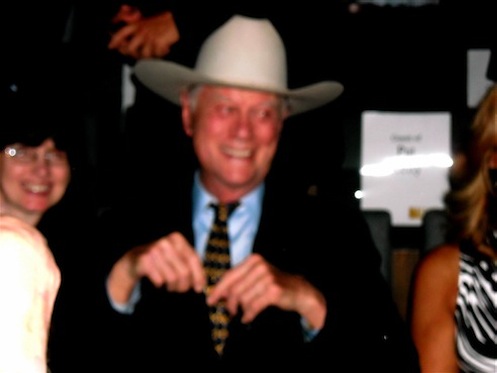 Last call: Larry Hagman at the close of Dallas' world re-premiere.
Photo: Ed Bark