02/27/13 01:44 PM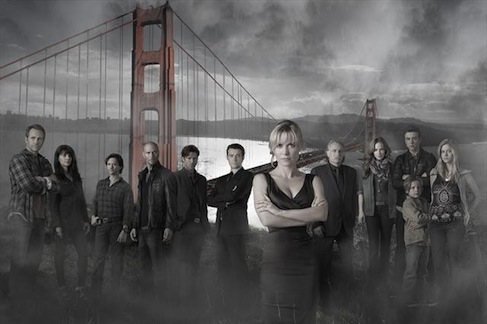 Radha Mitchell heads the ensemble cast of Red Widow. ABC photo
Premiering:
Sunday March 3rd at 8 p.m.(central) on ABC
Starring:
Radha Mitchell, Goran Visnjic, Clifton Collins Jr., Sterling Beaumon, Luke Goss, Suleka Mathew, Erin Moriarty, Jaime Rae Newman, Jakob Salvati, Lee Tergesen, Wil Traval, Rade Serbedzija
Produced by:
Melissa Rosenberg, Howard Klein, Alon Aranya
By ED BARK
@unclebarkycom
Fox set sail last fall with
The Mob Doctor
, which committed malpractice in the ratings after getting panned by reviewers.
ABC's better rendered new
Red Widow
could just as easily be titled
The Mob Mom
-- in lieu of the already taken
Married to the Mob
. Starring Australian Radha Mitchell as a well-kept homemaker of Russian descent, it's adapted from the Dutch series
Penoza
. Think about that for a sec.
Red Widow
gets underway with a two-hour premiere scheduled directly opposite NBC's Sunday night launch of
All-Star Celebrity Apprentice
. That's likely a losing proposition for the ABC newcomer, particularly in the battle for advertiser-prized 18-to-49-year-olds. After all, how can a no-name cast (excepting former
ER
heartthrob Goran Visnjic as a ruthless crime boss) compete against the all too well-known likes of Gary Busey, La Toya Jackson, Dennis Rodman and Lisa Rinna?
Newcomer Mitchell capably plays the lead role of Marta Walraven. She's a mother of three children living the good life in Marin County by looking the other way as her husband Evan (a still bearded Anson Mount from AMC's
Hell On Wheels
) supports the family by exporting marijuana. Marta is already well-trained in this respect. Her broken English-speaking father, Andrei Petrov (Rade Serbedzija), is a veteran of the organized crime game.
Unfortunately for the Walravens, Marta's brother, Irwin (Wil Traval), decides to heist a big cache of cocaine that's been brought in from abroad. It's the property of Nicholae Schiller (Visnjic), who doesn't much like it when two of his men are murdered while the coke goes missing.
Irwin, who works with Evan, was intent on expanding their drug business. "We're all dead," says Evan upon finding out what his brother-in-law has done.
Instead, as ABC's promos have made clear, it's only Evan who winds up dead while his youngest son, Boris (Jakob Salvati), is witness to and traumatized by the sight of three bullets entering dad's chest. It's a shame, because Evan has pledged to quit the drug business cold turkey and get out of town with the entire family. On the night before his death, mom and pop Walraven celebrate by making hotter than usual love.
"This kills me I can do nothink," Marta's father laments after she's told by one of Nicholai's henchmen that it's now her responsibility to repay her husband's debt. Why he can do "nothink" isn't entirely clear, although some reference is made to his money being "tied up" for a while.
Meanwhile, the still very handsome Visnjic tries hard to sneer as Kingpin Schiller. Pooh-poohing any cash settlement, he demands that Marta make arrangements to import a drug shipment for him. And she'll find out when and where at his convenience. Just keep your cell phone charged.
Marta's jailed bro, Irwin, knows the score. "He doesn't care about the money," he says of Nicholae. "He's making an example of us. That's what you do in our business."
So we have something of a poor man's
Breaking Bad
motif coming into play, with Marta having to decide how deep she'll go into crime in order to protect her children's future. Unlike Walter White, she's not cooking drugs. She's instead playing with fire by recruiting new smuggling team members with help from her dead husband's crum-bum best friend, Mike Tomlin (Lee Tergesen).
Red Widow
also inserts an FBI agent -- Clifton Collins Jr. as James Ramos -- who's intent on persuading Marta to help him instead of the Schiller crime operation. So far, he tells her, she hasn't done enough bad things to merit any jail time. By the end of Sunday's first two hours, a desperate Marta is straddling two worlds. And then the phone rings. To be continued.
ABC already has canceled two string-along new dramas this season --
666 Park Avenue
and
Last Resort
. A third, the recently launched
Zero Hour
, also looks like a short-temer after two weeks of dismal ratings.
Red Widow
isn't as compelling as
Last Resort
was in its early episodes. But it's appreciably better than those other two. Still, consumer confidence in
Red Widow
's staying power should be rightfully suspect at best. And in Sunday's second half, the premise already shows some signs of unraveling on the road to potential ridiculosity.
GRADE:
C+
unclebarky@verizon.net