09/26/12 04:08 PM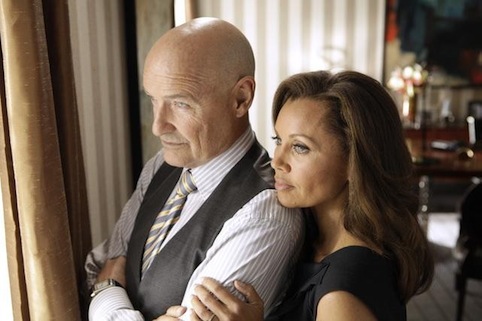 Terry O'Quinn & Vanessa Williams are not nice in 666 Park Avenue.
ABC photo
Premiering:
Sunday, Sept. 30th at 9 p.m. (central) on ABC
Starring:
Terry O'Quinn, Vanessa Williams, Rachael Taylor, Dave Annable, Mercedes Masshn, Robert Buckley, Helena Mattson, Erik Palladino, Samantha Logan
Produced by:
David Wilcox, Matt Miller, Gina Girolamo, Leslie Morgenstein
By ED BARK
@unclebarkycom
ABC always seems to have a creep show on its mind, and Terry O'Quinn has shown he's of a mind to act accordingly.
The network of all those Stephen King miniseries and, more recently,
The River, The Gates
and
V
, joins forces Sunday night with a man who came to big-time fame as duplicitous John Locke in
Lost
. But Quinn also is a veteran of deep dark pursuits such as
Harsh Realm, Millennium
and
The Stepfather
and its first sequel (in which he cut his teeth a quarter-century ago as an extremely crazed serial killer).
The role of Daddy Warbucks perhaps hasn't beckoned yet, leaving O'Quinn to play to type in
666 Park Avenue
. The serial drama premieres on Sunday, Sept. 30th, with O'Quinn cast as a diabolical, super-powered apartment building owner named Gavin Doran. In tandem with his wife, Olivia (Vanessa Williams of
Desperate Housewives
), he preys on the unsuspecting and tends to make their hands bleed before dispatching them through various portals into a hellish kingdom come. His mantra: "You signed a binding contract. Now it's time to settle up."
The inspiration is a pair of
666 Park Avenue
novels by Gabriella Pierce, who uses Manhattan's Upper East Side Drake Hotel as her residence evil. ABC has started off with big helpings of eerie music, whoosh-y sound effects and repeated glares or satisfied smiles from Gavin. Still, the opening hour is pretty sluggish. FX's
American Horror Story
got out of the gates much faster while also being appreciably scarier in its treatments of Season 1 leads Dylan McDermott and Connie Britton.
ABC's fresh meat arrives in the forms of Jane Van Deen and her husband, Henry. They're from the Midwest, of course, although Henry (Dave Annable in designer stubble) already has a job as a mayoral aide while wife, Jane (Rachael Taylor), aspires to fill the vacant manager's position at the Drake.
An initially dismissive Gavin -- "To be blunt, I'm not in the charity business. I need people who know what they're doing" -- rather abruptly softens up and gives her the job after Jane tells him his venerable multi-story pad likely needs a major structural overhaul.
Weird things begin happening at a measured pace during those times when the thrilled couple aren't undressing each other or thinking about it (in a PG manner of speaking, of course). A budding playwright named Brian Leonard (Robert Buckley) is horrified to see his wife, Louise (Mercedes Masshn), being slam-banged by elevator doors. Another poor schlepper again is dispatched to do the devil's bidding while Jane finds the basement to be very intriguing. And a new, nubile resident named Alexis Blume (Helena Mattson) tempts playwright Brian with some displays of the flesh before and after being hired as the Leonards' assistant.
The actual address of the Drake is 999 Park Avenue, with apologies to Herman Cain perhaps. But viewers get to see those numbers do a backflip in the early going.
ABC publicity materials, which turn out to more interesting than the opening hour, say that Gavin "has many skeletons in his closet," but for now is "at the height of his world and commands the dark power of the Drake." Wife Olivia, who willfully buys a blood red $4,000 dress for Jane, "wears her elegance, wealth and position in society like armor . . . but cracks will slowly be revealed."
It appears that the emphasis will be on "slowly."
666 Park Avenue
doesn't entirely lack a pulse, but doesn't get the blood rushing either. Unless things dramatically improve, you'd be better off digging up one or more of ABC's old Stephen King flesh-crawlers. It's quite a body of work -- with the catalogue including
It, The Stand, Rose Red
and the network's very own version of
The Shining
.
Or, if you're of a mind to wait just a few weeks, Season 2 of
American Horror Story
is scheduled to start on Oct. 17th with a brand new cast of potential victims joining holdover Jessica Lange's Sister Jude.
That's probably where Terry O'Quinn should be spending his time anyway.
GRADE:
C