12/19/12 12:30 PM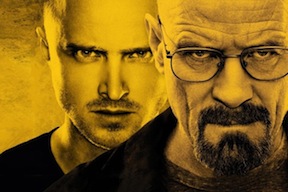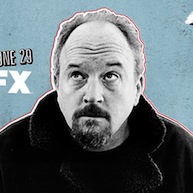 The deeply disturbed men of AMC's Breaking Bad, FX's Louie.
By ED BARK
@unclebarkycom
HitFix.com's first of what's intended to be an annual poll of TV critics put AMC's
Breaking Bad
at the top of the Top 10 list.
Seven of the anointed were cable TV series while PBS had twice as many entries as the lone commercial broadcast network qualifier, NBC's
Parks and Recreation
.
Your friendly content provider was among 44 TV reviewers asked to participate. I had
Breaking Bad
in second place, behind FX's
Louie
. All programs were eligible, including specials and movies.
Here's the Top 10 list as voted on by all 44 critics:
1. Breaking Bad (AMC)
2. Homeland (Showtime)
3. Mad Men (AMC)
4. Louie (FX)
5. Game of Thrones (HBO)
6. Girls (HBO)
7. The Walking Dead (AMC)
8. Parks and Recreation (NBC)
9. Downton Abbey (PBS)
10. Sherlock (PBS)
Here's my Top 10 list:
1. Louie
2. Breaking Bad
3. Mad Men
4. Homeland
5. The Dust Bowl (PBS)
6. Downton Abbey (PBS)
7. Treme (HBO)
8. Girls (HBO)
9. Justified (FX)
10. The Middle (ABC)
Of the four TV attractions that made my Top 10 but not the consensus,
Justified
finished just out of the money in the 11th spot.
Treme
was 20th,
The Middle
23rd and
The Dust Bowl
40th. Although I really don't think a lot of writers read the fine print indicating that all TV shows were eligible, not just series.
Dust Bowl
, the latest Ken Burns documentary film, ran for four hours on two nights. It received an aggregate score of 83 out of 100 on
metacritic.com
, to which I also contribute.
The complete HitFix.com list of all shows receiving votes -- and where they finished --
is right here
. Here's how some other notables ranked:
13. Modern Family (ABC)
15. 30 Rock (NBC)
19. Sons of Anarchy (FX)
22. The Daily Show (Comedy Central)
29. Boardwalk Empire (HBO)
49. American Horror Story (FX)
51. Dallas (TNT)
57. Dexter (Showtime)
unclebarky@verizon.net