05/21/12 08:54 AM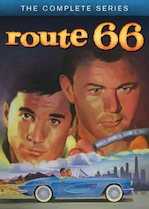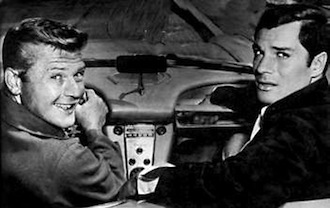 By ED BARK
@unclebarkycom
Television's original roads scholars, Buz Murdock and Tod Stiles, made
Route 66
a signature CBS series of the early 1960s.
It wasn't a smash hit, climbing just once into prime-time's Top 30 (and just barely) during a four-season tour of America's highways, byways, big cities and occasional podunks. Even so, no scripted series before or since ever traveled as far and wide.
During times when backlot filming provided cover for wide varieties of names and locations,
Route 66
hit 40 different states for its 116 episodes. This newly minted, 24-disc, complete series collection from
Shout Factory
($99.99 plus just 66 cents for shipping and handling) puts the boys back behind the wheel of their Chevy Corvette convertible for adventures that began in grimy, foreboding Concord, Kentucky (standing in for an out-of-the-way Mississippi burg named Garth) and ended very lamely in shiny Tampa, Florida.
Route 66
aimed to epitomize the youthful unrest enshrined in Jack Kerouac's mostly autobiographical
On the Road
novel, published in 1957 just three years before Buz and Tod (George Maharis, Martin Milner) spun into view on Oct. 7, 1960. Kerouac reportedly considered suing, but was told he'd never win.
The series had a tough enough time getting on TV in the first place. Its executive producer, Herbert E. Leonard, funded the pilot episode out of his own pocket, according to a 1990
Route 66
panel included as an "Extra" in the Shout Factory collection. It was first called
The Searchers
, but the classic 1956 John Wayne movie of the same name rendered that title inoperative.
Re-watching
Route 66
-- and I looked at six episodes -- quickly reminds a viewer that commercial interruptions were far fewer and shorter in the 1960s. The premiere, subtitled "Black November," ran for 51 minutes, 18 seconds. That's about 10 minutes longer than a TV drama episode today.
There also were significantly more episodes filmed per season. Today's typical commercial broadcast order is 22 episodes, with 10-to-13 the norm for cable series. Despite its incredibly demanding, far-flung production schedule,
Route 66
made 30 episodes in Season 1, followed by 32, 31 and 23 in Seasons 2-4. (The final season ended early on March 13th, 1964.)
Route 66's
distinctive theme song, beginning with a cool 'n' jazzy piano riff, hit No. 30 on the pop charts in 1962. But the series received just two Emmy nominations, both in that same year, for Maharis and a guest-starring role by Ethel Waters. Both lost.
Maharis' Buz Murdoch was the series' Mr. Intensity, a Hell's Kitchen survivor without any parental role models. When not philosophizing, he regularly deployed his fists in tight spots. Milner's more genteel, less physical Tod Stiles inherited the Chevy Corvette from his deceased father. "Only thing he had left," he says in the premiere episode after the boys wreck the steering column while barreling down a dirt road in search of a shortcut to Biloxi, Mississippi. They were headed there to make some money during oyster season.
Garth, Mississippi turns out to be a virtual prison camp run by an elderly despot with the same surname. The town has a dark secret. And several fistfights later (including one with a snarly George Kennedy), Buz and Tod stumble upon the awful truth with help from a prototypical pretty young girl and her cowed father.
The episode is surprisingly gritty and atmospheric, even with its almost comically blaring horns swelling to signify commercial breaks. Stirling Silliphant, who was working on ABC's
The Naked City
series during that same period, wrote the great majority of scripts for
Route 66
. In a word, he could be wordy. And florid. But pithy, too. In any case, actors had their work cut out for them, whether it was Milner, Maharis, Glenn Corbett (who replaced the ailing Maharis down the homestretch of Season 3) or a galaxy of guest stars.
Many an up-and-coming young actor made his or her mark on
Route 66
. Consider this double bill earlier in Season 2. Robert Duvall, reed-thin with his protruding right front tooth yet to be doctored, played a heroin addict in "Birdcage On My Foot," which was filmed in Boston.
Then, in the following week's episode, "First-Class Mouliak," an equally unknown Robert Redford guested as the educated son of a Cleveland factory worker. Uh-oh, his girlfriend accidentally falls to her death while he's chasing her and pleading, "Forgive me!"
Duvall's performance is a marvel, even though Silliphant's script occasionally has all concerned running a little too much at the mouth. As when Duvall declares, "This is a mothball world, man. So bundle up so the chill of society doesn't freeze your marrow."
Maharis ends up cradling Duvall in his arms, babysitting him through his withdrawal phase while assuring, "We're gonna see if you've got the guts to be born again and I've got the stamina to deliver you."
Route 66
also re-gathered Boris Karloff, Lon Chaney, Jr. and Peter Lorre to play themselves in a Season 3 episode titled "Lizard's Leg and Owlet's Wing." For some reason it was filmed at the O'Hare Inn near O'Hare Airport, with the three aging horror-meisters meeting under assumed names to debate whether their old-school ways of frightening people would still work in a proposed contemporary TV series.
In their latest jobs, as temporary O'Hare Inn employees, Tod got stuck with babysitting "Mr. Retep" (Peter spelled backwards) while Buz was assigned to monitor an executive secretaries convention well-stocked with young babes. It's a polar opposite of "Birdcage On My Foot" in tone and storyline, but enjoyable from start to finish. A built-in preview then touts Rod Steiger as an upcoming
Route 66
guest star.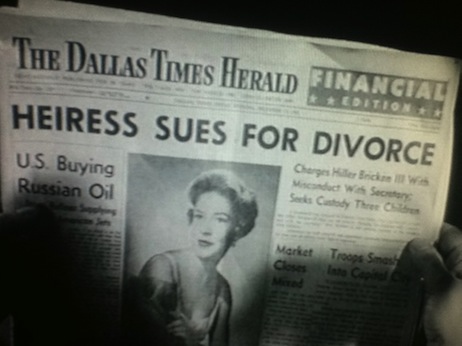 The Dallas Times Herald made a brief appearance in Season 2.
Route 66
came to Dallas in Season 2 for filming of "Aren't You Surprised to See Me?", which originally aired on Feb. 16, 1962.
A religious nut and traveling serial killer played by David Wayne landed at Love Field in search of his next sacrificial lamb. Meanwhile, Buz and Tod were pulling up to the Marriott Motor Hotel, where another executive secretaries convention just happened to be firing up. They otherwise were taking jobs at the nearby Trade Mart, where Buz was kidnapped by the serial killer before a worried Tod called the police.
It's a suitably creepy and involving episode, with Wayne's "John Farrington" (actually the name of his most recent victim) offering up sacrificial lambs every time an entire city fails to follow the 10 Commandments for a full 24 hours. The above
Dallas Times Herald
headline told him all he needed to know. "Can you blame me because society requires shock treatment?" he asks plaintively.
The Dallas of yesteryear is recaptured via shots of the zoo, a Wyatt's Cafeteria and Wyatt's Foods Stores parking lot, the Marriott's Sirloin & Saddle Club, shots of downtown by dark and a KRLD-AM radio dispatch ("Dan McGraw reporting"). Buz is then taken to Love Field for his execution, with Farrington always deploying an undetectable lethal liquid secretly perfected by the Nazis during World War II.
Buz isn't about to go down without a soliloquy. What about the "Thou Shalt Not Kill" commandment, he asks. "What does that make you? A pied piper whistling people into hell?"
Furthermore, "Go ahead, butcher boy. Chant your unholy chants. Go on and spray me with your poison bug juice and go on deluding yourself." And so on.
The series just wasn't the same without Maharis, whose illness and overall fatigue had him dropping in and out of the series until his last appearance midway through Season 3. Milner's Tod soloed off-and-on for a while until hooking up with a new companion, Linc Case (Glenn Corbett), in "Fifty Miles From Home," originally shown on March 22, 1963. A Vietnam War hero from Houston, Linc sought to find himself via an unfettered life on the road.
Route 66
ended disappointingly with a two-part light comedy dud titled "Where There's a Will, There's A Way." Barbara Eden and Chill Wills were among the guest stars while Tod and Linc donned various goofy looking disguises in order to outwit a trio of gold digging brothers. All concerned were on fumes by then, including writer Silliphant.
The Shout Factory collection, with all of the episodes in glorious black-and-white, for the most part is a time travel well worth taking.
Route 66
, which aired on Fridays opposite ABC's
The Flintstones
for its first three seasons, had an uncommon bite and range during its glory years with Maharis, Milner and their trademark Corvette convertible.
In reality, the series seldom strayed onto the actual Route 66. Buz and Tod invariably were on the road only for as long as it took them to pull in and out of a city. And episode titles very rarely clued viewers to exactly where they were, ranging in absurdity from "How Much a Pound Is Albatross?" (set in Tucson) to "You Can't Pick Cotton in Tahiti" (Tennessee).
Maharis and Milner live on, with both now in their 80s. Corbett died in 1993 at the age of 59. NBC's badly executed
Route 66
summer series aired in the year of Corbett's passing, with James Wilder playing Buz Murdock's son, Nick, while Dan Cortese hitched along for the ride as a character named Arthur Clark.
Their road trip lasted all of four episodes, barely the equivalent of an oil change.